Celgene Upgraded to Outperform and 2 Healthcare Stocks on the Move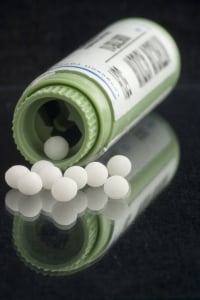 Analysts and investors alike were taken with the performance of healthcare stocks last year.
In 2013, stocks in the 540-company strong sector will face pressures from the still-recovering economy, but as Dan Hunt, a co-portfolio manager for the Allianz RCM Wellness Fund told The Street in November, companies have primarily gone through the big patent cliffs and earnings have been rebased at a reasonable rate. Furthermore, the industry will benefit from the huge influx of 30 million new customers that will receive health insurance as a result of ObamaCare.
Here's a look at three stocks starting off the new year with a spike:
1)  Celgene (NASDAQ:CELG): Current Price $91.42
Pushed up by a positive forecast on Monday and several analyst upgrades, shares of the biotechnology company traded slightly above the stock's five-year high of $91.40 on Tuesday. The company, which has the third largest market capitalization in the industry, updated its guidance for its upcoming fiscal year, which drew analysts' interest.
Save time and make money with our LOWEST ADVERTISED PRICE EVER to help you achieve your financial goals in 2013. This is a LIMITED TIME OFFER, so get your Stock Picker Newsletter now!
In a press release issued on January 7, Celgene said that it expected income for 2012 to be at the higher end of its previous estimate and in-line with its projected 2013 results. Furthermore, net product sales are projected to increase to more than $12 billion by 2017, doubling current numbers. Of particular importance to the company's future profitability and stock valuation, Celgene outlined several milestones for 2013 that pinpointed three "potential blockbusters" the company has in its drug pipeline. One of those drugs, the existing cancer drug Abraxane, is slated to receive approval by the Food and Drug Administration this year as a treatment for pancreatic cancer, one of the hardest to treat forms of the disease.
"The accomplishments of 2012 and our outlook for 2013 have positioned us with significant catalysts as we enter a new growth phase for Celgene in all three therapeutic areas of our business: hematology, oncology and inflammation and immunology," said Bob Hugin, Celgene's Chairman and Chief Executive Officer.
Jefferies analysts raised their price target on the company's shares to $104 from $94, based on its updated guidance, while Stifel Nicolaus raised its goal to $98 from $89. Several analysts saw even more potential in Celgene; Piper Jaffray upgraded the biotech company to Overweight from Neutral and RBC lifted its rating on Celgene to Outperform from Sector Perform, increasing its price target to $100 from $90.
Even though Celgene underperformed competitors Amgen and Gilead, as shares of the company rose only 16 percent last year compared to the respective 37 percent and 75 percent increases hit by its rivals, RBC Capital Markets analyst Michael Yee believes that the company's pipeline promises better results for this year. He gave the stock an earnings multiple of 18 for 2013, which is in line with its large-capitalization biotech peers.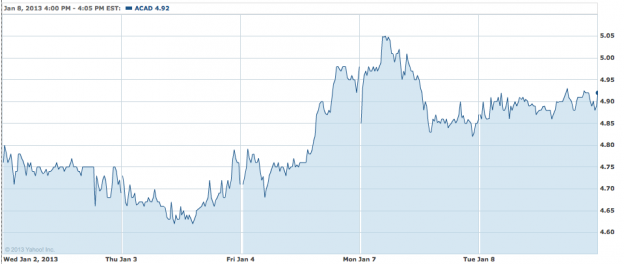 2) The Medicines Company (NASDAQ:MDCO): Current Price $28.86
Shares of the pharmaceutical company may be trading 15 percent below their all-time high, but the stock is in-line with its 20-day, 50-day, and 100-day Simple Moving Average. The company's stock was pushed closer to these averages after jumping as much as 13 percent on Tuesday afternoon, reaching its six-year high.
The Medicines Company announced positive results for its phase three trial of the antiplatelet drug cangrelor, which sent the company's stock on its upward tangent. The treatment showed significant statistical improvements over Bristol-Myers Squibb's (NYSE:BMY) clopidogrel, and it will be submitted for U.S. and E.U. regulatory approval this year.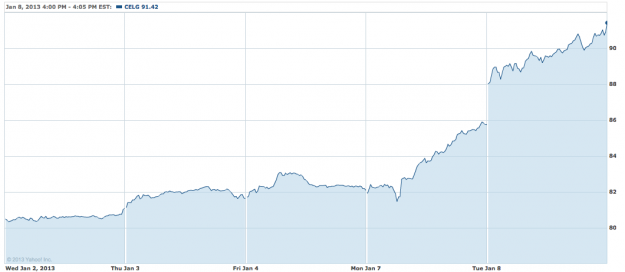 3) Acadia Healthcare (NASDAQ:ACHC): Current Price $24.94
Shares of the healthcare provider made steady gains for most of last year, and at its current price, the stock has moved just above its 20-day, 50-day, and 100-day Simple Moving Average by a small percentage. The company's stock was buoyed up more than 3 percent on Tuesday after announcing that it had acquired Greenleaf Center, a 50-bed acute inpatient psychiatric facility located in Georgia, from South Georgia Medical Center.
"We believe the non-profit segment of the healthcare industry has the potential to be a meaningful source of additional acquisition opportunities," said the company in a press release. The purchase is expected to bring annual revenues of $7 million and have an accretive impact on its 2013 earnings per share.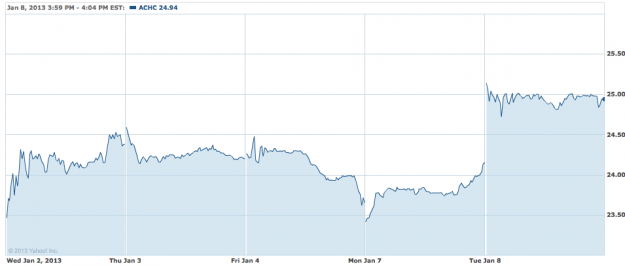 Don't Miss: Can a New CEO Turn Sears Around?