Celsion Announces Patent Application in 4 Markets and 2 Other Hot Stocks to Watch
Celsion Corporation (NASDAQ:CLSN): Current price $1.34
On Wednesday, Celsion announced that its proprietary patent application, Method of Storing Nanoparticle Formulations, has now been awarded in the four biggest markets for liver cancer worldwide: China, Japan, South Korea, and Taiwan. The firm holds an exclusive license agreement with Duke University for its temperature sensitive liposome tech, which covers the ThermoDox formulation. Celsion's newly-issued patents specifically cover methods of storing stabilized, temperature-sensitive liposomal formulations, and will help in the protection of world rights by extending the overall term of the ThermoDox patent portfolio to August 2026. The patents in these countries, along with the previously granted patent for Australia, are the first five territories in this group, which includes pending applications in the United States, Europe, and additional key commercial geographies.

Microsoft Corporation (NASDAQ:MSFT): Current price $34.68
Microsoft announced Wednesday the 86 teams that will journey to St. Petersburg, Russia, in July to compete in the 11th annual Imagine Cup Worldwide Finals for $1 million in cash prizes and other awards. Each team's innovative ideas, mastery of integrated tech, and development of a strong business plan assisted them in competition in their respective countries during the year, and then to rise above their peers for the opportunity to represent their countries at Microsoft's annual global student technology competition. Imagine Cup forms part of the Microsoft YouthSpark initiative to develop opportunities for numbers of young people on a global basis.

Pfizer (NYSE:PFE): Current price $28.33
Pfizer is selling its 500,000 square-foot commercial manufacturing facility that it currently operates in Bristol, Tennessee, to UPM Pharmaceuticals, which is a drug development and contract manufacturer based in Baltimore. UPM will continue to make Pfizer's current portfolio of products within the facility for two years.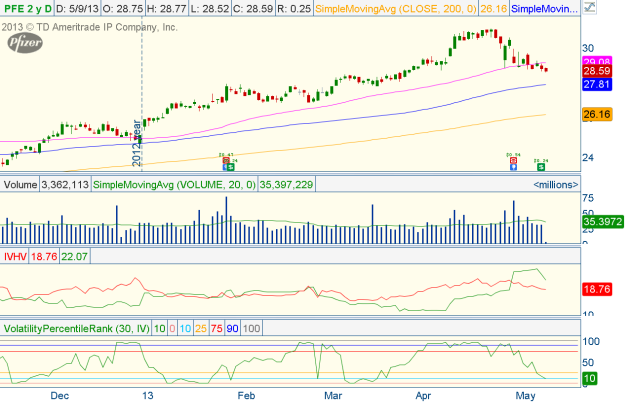 Don't Miss: Obamacare Needs the IRS to Oversee These 47 Provisions.