Central Banks Push Global Wealth to All Time High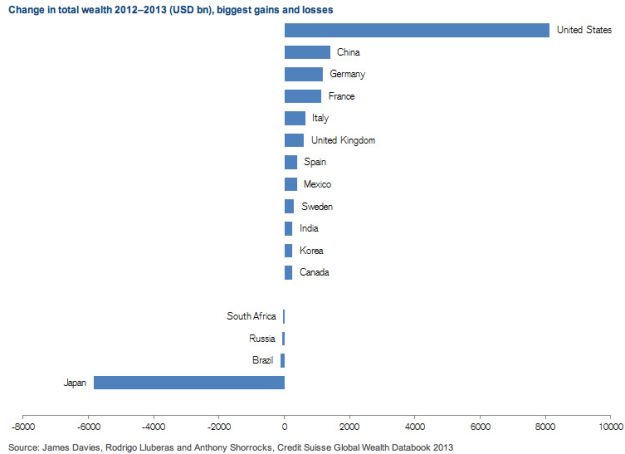 The global financial system was brought to its knees five years ago. With a perfect combination of unsound policies, excess leverage, and rampant speculation, the world fell victim to a credit meltdown that is now known as the greatest financial crisis since the Great Depression. Nations are still trying to recover from the damage, but global wealth is at a new all time high.
Despite the lingering problems facing people around the world, global wealth has more than doubled since 2000 to reach $241 trillion this year, according to a new report from Credit Suisse. Wealth is up almost 5 percent from last year, and 68 percent over the past decade. Average wealth per adult also reached a new all time high of $51,600.
Surrounded by loose monetary policy from the Federal Reserve, the United States accounted for 72 percent of the latest increase in global wealth. The report explains, "Fueled by a recovery in house prices and a bull equity market which drove the Dow Jones to new highs, the United States added $8.1 trillion to the global wealth stock, increasing wealth ownership by 12.7 percent to $72.1 trillion. This is 20 percent more than the pre-crisis high in 2006 and 54 percent above the recent low in 2008." Meanwhile, Europe and China added $5.5 trillion and $1.4 trillion to the global wealth stock, respectively.
However, central banks have not been able to boost every nation into positive territory. Household wealth in Japan plunged $5.8 trillion this year, equivalent to 20 percent of Japanese net worth. The nation has embraced an aggressive approach to fiscal stimulus and monetary expansion labeled "Abenomics" that has bruised the yen and sent stock prices higher, but equities in Japan only account for less than 10 percent of household financial wealth. In fact, total wealth in Japan is up only 1 percent since 2008.
The gain in household wealth over the past decade has also been very uneven. Credit Suisse estimates that the bottom half of the global population own less than 1 percent of total wealth, while the richest 10 percent hold 86 percent of the world's wealth. The top one percent account for 46 percent of global assets.
Credit Suisse concludes that, "Advances in wealth will result from gains in both real and financial assets. Financial assets accounted for more than half of gross wealth during the past decade, but the collapse in asset prices during the financial crisis caused the share of wealth to fall in 2008. Since then, financial assets have staged a remarkable recovery." Financial assets are expected to rise 7.5 percent annually over the next few years.
Don't Miss: Your Cheat Sheet to the Debt Ceiling Debacle
Follow Eric on Twitter @Mr_Eric_WSCS