CenturyLink Earnings: Four Quarters of Net Income Falling
S&P 500 (NYSE:SPY) component CenturyLink, Inc. (NYSE:CTL) reported its results for the first quarter. CenturyLink, Inc. is a communications company that offers communications services, including Internet access, broadband services and voice services.
Don't Miss: Wall St. Cheat Sheet's newest Feature Trades of the Month!
CenturyLink Earnings Cheat Sheet for the First Quarter
Results: Net income for the telecom services company fell to $211.5 million (69 cents/share) vs. $252.6 million (84 cents/share) a year earlier. A decline of 16.3% from the year earlier quarter.
Revenue: Fell 5.8% to $1.7 billion YoY.
Actual vs. Wall St. Expectations: CTL reported adjusted net income of of 76 cents/share. By that measure, the company beat the mean estimate of 70 cents/share. Estimates ranged from 66 cents per share to 76 cents per share.
Quoting Management: "CenturyLink's first quarter results reflect the expected loss of legacy revenues but also significant positive trends. We achieved continued progress in improving our top line revenue trend, successfully integrating and operating the Embarq properties, slowing the rate of line loss in our business and meeting customer demand for high-speed Internet and high-bandwidth services," Glen F. Post, III, chief executive officer and president, said. "I believe the recently completed Qwest transaction and the pending Savvis acquisition significantly enhance CenturyLink's position as a global communications leader and strengthen our ability to drive long-term shareholder value."
Key Stats:
The company has now seen net income fall in each of the last four quarters. In the fourth quarter of the last fiscal year, net income fell 2.2% while the figure fell 17.7% in the third quarter of the last fiscal year and more than threefold three quarters ago.
Over the last five quarters, revenue has increased 68.8% on average year over year. The biggest increase came in the first quarter of the last fiscal year, when revenue rose more than twofold from the year earlier quarter.
Competitors to Watch: AT&T Inc. (NYSE:T), Verizon Communications Inc. (NYSE:VZ), Sprint Nextel Corporation (NYSE:S), PAETEC Holding Corp. (NASDAQ:PAET), XO Holdings Inc. (XOHO), Cbeyond, Inc. (NASDAQ:CBEY), Telephone & Data Systems, Inc. (NYSE:TDS), tw telecom inc. (NASDAQ:TWTC), Fusion Telecommunications Int'l, Inc. (FSNN), and IDT Corporation (NYSE:IDT)
Stock Performance: Shares of CTL are trading down 0.17% from the previous closing price of $40.37.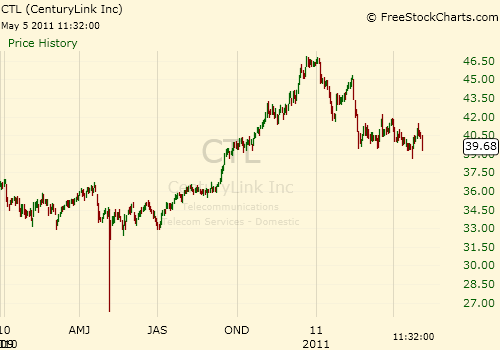 Don't Miss Wall St. Cheat Sheet's newest Feature Trades of the Month!