CenturyLink Sees Sharp Drop and 3 Heavily Traded Shares Moving Now
CenturyLink, Inc. (NYSE:CTL):  Current price $32.41
The sharp drop for CenturyLink, Inc. came after the telecommunications carrier slashed their dividend and admitted that their debt will likely lose investment-grade status. The stock plunged more than 22% to $32.47 by midday, setting its lowest level in nearly 18 months.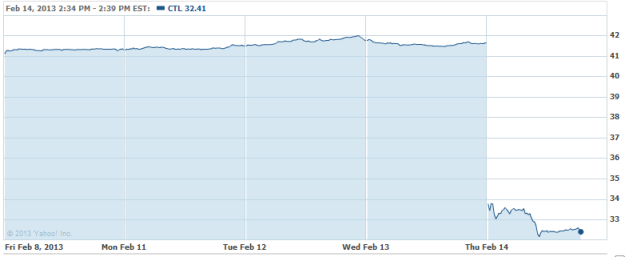 J2 Global, Inc. (NASDAQ:JCOM): Current price $35.96
After the bell Wednesday, J2 Global Inc., reported a fourth quarter adjusted earnings per share of $0.70, this is up from $0.64 a year ago. The consensus estimate was for EPS of $0.62. Full year 2013 adjusted EPS is expected to be between $2.65 and $2.85, compared to the consensus estimate of $2.62. J2 Global gapped sharply higher mid-day Thursday and continues to rise.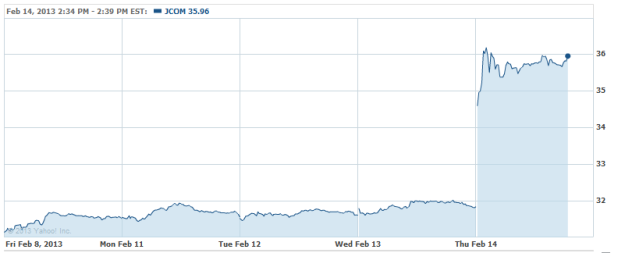 General Electric Company (NYSE:GE): Current price $23.26
MetLife (NYSE:MET) has received the required approvals from both the Federal Deposit Insurance Corporation and the Board of Governors of the Federal Reserve to de-register as a bank holding company. MetLife completed their sale of MetLife Bank's depository business to General Electric Capital on January 11.

Research In Motion Ltd (NASDAQ:BBRY): Current price $14.78
James Balsillie, former Co-Chief Executive Officer and co-founder of Research in Motion, now called BlackBerry, disclosed that he does not own a stake in his former company. Shares of BlackBerry are down 4%, or 54c, to $13.45 in pre-market trading. Deutsche Bank said  that their channel checks indicate the reception of BlackBerry's Z10 smartphone is not as good as they had anticipated as the device in United Kingdom stores have not sold out.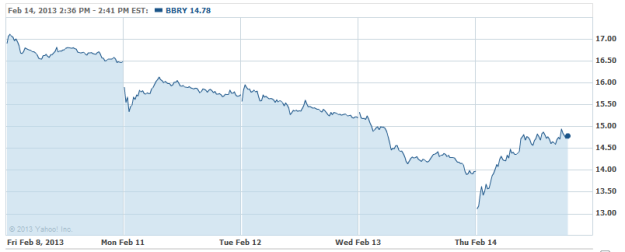 Don't Miss: How Slow and Steady is Cisco?