CEO Outlook: Will the Economy Improve in 2014?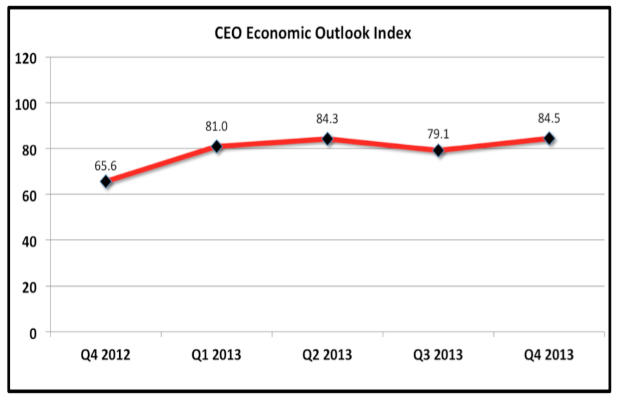 Although the recession technically ended more than four years ago, the U.S. economy is still struggling to make a convincing recovery from the financial crisis. The unemployment rate remains stubbornly high, while companies continue to reduce expenses and capital expenditures. However, the latest sentiment report from chief executive officers predicts an uptick in economic activity over the next six months.
The Business Roundtable, which is an association of chief executive officers of leading U.S. companies, recently published its fourth-quarter CEO Economic Outlook Survey. The survey was completed between November 4 and November 21, and provides a forward-looking view on the economy.
As the chart above shows, the economic index for the survey rose to 84.5 in the current quarter, compared to only 79.1 in the prior quarter. That is the best reading in over a year and well above the current long-term average of about 79.4.
In terms of the overall economy, the group expects real gross domestic product to grow at a 2.2 percent annual rate, unchanged from the previous two quarters. Jim McNerney, chairman of the Business Roundtable and chief executive officer of The Boeing Company (NYSE:BA), explains in the following press release:
"CEO expectations for economic expansion in the next six months increased slightly from last quarter, with expectations for sales, capital investment, and hiring all tracking somewhat higher. In aggregate, our expectations are consistent with an economy that will continue along the path of steady, modest recovery into the first half of 2014. These soundings are also consistent with an overall economy that, despite progress, is not yet performing at its full potential."
In addition to Boeing, other members of the Business Roundtable include executives from companies such as Bank of America (NYSE:BAC), Microsoft (NASDAQ:MSFT), Sprint Nextel (NYSE:S), and General Electric (NYSE:GE).
The survey's key findings for the third and fourth quarter are shown below. Over the next six months, 73 percent of CEOs in the current quarter expect their sales to increase, up from 71 percent in the third-quarter. Meanwhile, 39 percent expect to increase capital spending, up from 27 percent. The labor market continues to remain sluggish as 34 percent of CEOs expect to increase employment, only two points higher quarter-over-quarter.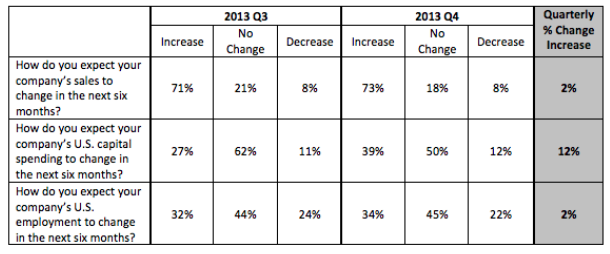 In a question posed annually in the fourth-quarter, 39 percent of CEOs said their top cost pressure impacting their businesses over the next six months were regulatory costs, unchanged from 2012. Labor and Healthcare costs were the next biggest pressures at 25 percent and 21 percent, respectively.
The Business Roundtable's CEO Economic Outlook Survey has been conducted quarterly since the fourth quarter of 2002. The organization represents leading U.S. companies with more than $7.3 trillion in annual revenues and nearly 16 million employees. Members account for almost a third of the total value of the U.S. stock market.
Don't Miss: Top 10 States With Booming Home Prices
Follow Eric on Twitter @Mr_Eric_WSCS