CEO Pay Rises Four Times Faster Than Yours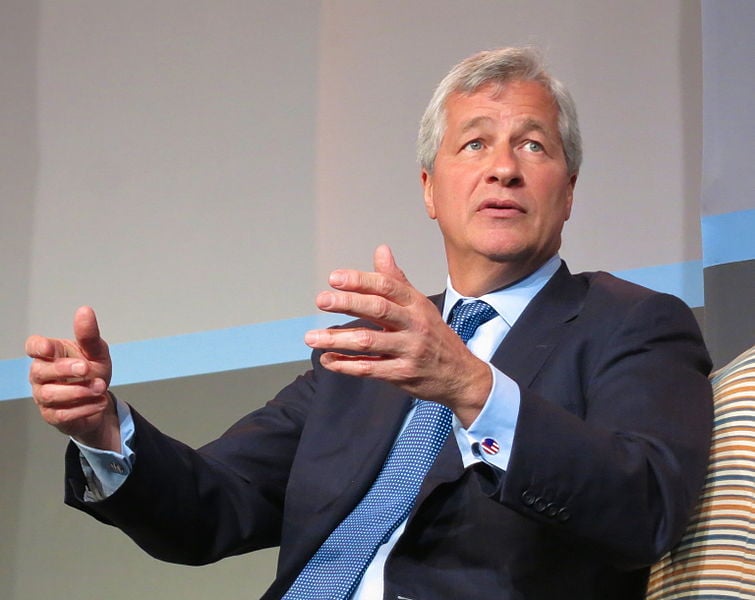 Pictured: JPMorgan Chase (NYSE:JPM) CEO Jamie Dimon made $18.7 million last year
The economy is on better footing and chief executive officer compensation is going up once again. The average CEO of a large, public company made $9.7 million last year, the Associated Press reports. This is an increase of 6.5 percent over last year, far higher than the 1.6 percent average pay increase last year for all U.S. workers.
Chief executive officers make 300 times what the average worker does. Research firm Equilar calculated the highest paid chief executives and found that for 2012 the highest paid was Leslie Moonves of CBS (NYSE:CBS). Moonves made $60.3 million in 2012, the Associated Press reports, basing that on Equilar's research.

Despite making so much more than the average employee, some CEOs — like BlackRock Inc.'s  (NYSE:BLK) Laurence Fink — are not satisfied. Fink is a member of "Fix the Debt" — a lobby group that is for lowering benefits like Social Security and Medicare. BlackRock saved $42 million in taxes over the past three years because executive "performance" compensation is tax-deductible. Fink made $119 million in performance compensation during those three years.
CEO pay dropped in 2008 and 2009 because of the recession but has since rebounded. A law sent into effect in 2011 that now forces companies to hold a vote for shareholders on CEO pay. While the vote is nonbinding, it does give the investors a way to voice their concerns. "I've never seen an environment where boards take more time trying to get this right," said Charlie Tharp — chief executive officer of the Center on Executive Compensation — said via the AP.
Pay for CEOs has long been a contentious issue. Do CEOs deserve such large rewards for what is essentially a team effort? Regardless, executive compensation is set to grow at a faster pace than inflation again this year. Think Moonves's $60 million is alone at the top of the list? Think again. The Wall Street Journal found that Oracle (NASDAQ:ORCL) chief executive officer Larry Ellison made more than $90 million in 2012.
Below is a list of eight, top-paid CEOs, their company and their total compensation for 2012.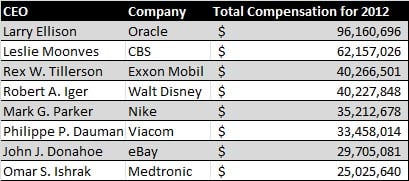 Data: Businessweek
Follow Mont on Twitter @mfcessna
Don't Miss: Why Did the U.K. Slap JPMorgan With a Fine?