Cephalon Earnings: Double-Digit Revenue Growth for Fifth Straight Quarter
S&P 500 (NYSE:SPY) component Cephalon, Inc. (NASDAQ:CEPH) reported higher profit for the first quarter as revenue showed growth. Cephalon, Inc. is an international biopharmaceutical company that develops products to address central nervous system, pain, oncology and inflammatory disease.
Don't Miss: Wall St. Cheat Sheet's newest Feature Trades of the Month!
Cephalon Earnings Cheat Sheet for the First Quarter
Results: Net income for Cephalon, Inc. rose to $211.1 million ($2.64/share) vs. $110.6 million ($1.35/share) in the same quarter a year earlier. A rise of 90.9% from the year earlier quarter.
Revenue: Rose 24.9% to $745.1 million YoY.
Actual vs. Wall St. Expectations: CEPH reported adjusted net income of of $1.98/share. By that measure, the company missed the mean estimate of $2.04/share. Estimates ranged from $1.88 per share to $2.17 per share.
Quoting Management: "After analyzing a full range of strategic options our Board concluded that the Teva offer provides the maximum shareholder value for Cephalon shareholders," said Kevin Buchi, Chief Executive Officer. "Based on these 2011 quarterly earnings, Cephalon is once again off to another very strong start. Given this performance, we expect that our full year earnings will meet or even exceed our previous guidance. However, due to our pending merger with Teva announced on Monday, we will no longer be providing 2011 guidance."
Key Stats:
The company has enjoyed double-digit year-over-year revenue growth for the past five quarters. Over that span, the company has averaged growth of 27.4%, with the biggest boost coming in the fourth quarter of the last fiscal year when revenue rose 34% from the year earlier quarter.
Net income has increased 42.1% year over year on average across the last five quarters. The biggest gain came in the most recent quarter, when income climbed 90.9% from the year earlier quarter.
Competitors to Watch: Watson Pharmaceuticals, Inc. (NYSE:WPI), Valeant Pharmaceuticals Int (NYSE:VRX), Genzyme Corporation (NASDAQ:GENZ), Johnson & Johnson (NYSE:JNJ), Jazz Pharmaceuticals, Inc. (NASDAQ:JAZZ), ChemGenex Pharmaceuticals Ltd. (CXSPY), Teva Pharmaceutical Industries Ltd (NASDAQ:TEVA), Bristol Myers Squibb Co. (NYSE:BMY), Abbott Laboratories (NYSE:ABT), and Biogen Idec Inc. (NASDAQ:BIIB)
Stock Performance: Shares of CEPH are flat after hours.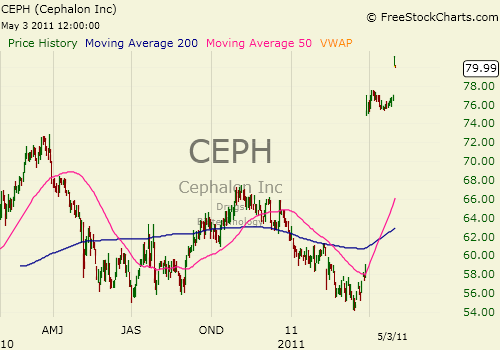 Don't Miss Wall St. Cheat Sheet's newest Feature Trades of the Month!