Cerner Corporation Earnings: Strong Bookings Push Shares Higher
S&P 500 (NYSE:SPY) component Cerner Corporation (NASDAQ:CERN) reported its results for the first quarter. Cerner Corporation designs and supports healthcare devices, healthcare information technology and content solutions for organizations and consumers.
Don't Miss: Wall St. Cheat Sheet's newest Feature Trades of the Month!
Cerner Earnings Cheat Sheet for the First Quarter
Results: Net income for the healthcare information services company rose to $64.6 million (75 cents/share) vs. $50.3 million (59 cents/share) in the same quarter a year earlier. A rise of 28.4% from the year earlier quarter.
Revenue: Rose 14% to $491.7 million YoY.
Actual vs. Wall St. Expectations: CERN reported adjusted net income of 80 cents per share. By this measure, the company topped the mean analyst estimate of 76 cents/share. Estimates ranged from 74 cents per share to 78 cents per share.
Quoting Management: "Our first quarter results represent a very good start to the year, with Cerner again delivering strong bookings, revenue, earnings, and cash flow," said Neal Patterson, Cerner chairman, CEO, president and co-founder. "Cerner remains very well positioned to continue benefiting from demand driven by stimulus, healthcare reform, and other regulatory requirements, such as ICD-10 codes, that can be addressed with our solutions and services."
Key Stats:
The company has now seen net income rise in three-straight quarters. In the fourth quarter of the last fiscal year, net income rose 16.8% and in the third quarter of the last fiscal year, the figure rose 25.8%.
Competitors to Watch: Allscripts Healthcare Solutions Inc (NASDAQ:MDRX), Mediware Info. Systems (NASDAQ:MEDW), CareFusion Corporation (NYSE:CFN), Quality Systems, Inc. (NASDAQ:QSII), Merge Healthcare Inc. (NASDAQ:MRGE), McKesson Corporation (NYSE:MCK), Streamline Health Solutions Inc. (NASDAQ:STRM), Aspyra Inc. (APYI), Omnicell, Inc. (NASDAQ:OMCL), and Computer Sciences Corp. (NYSE:CSC).
Today's Performance: Shares of CERN are up over 4% in after hours trading.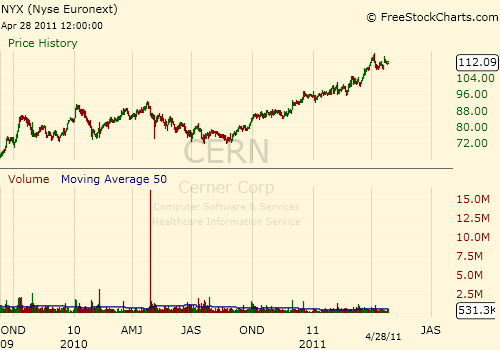 Don't Miss Wall St. Cheat Sheet's newest Feature Trades of the Month!