Cha-Ching: Cyber Monday Finally Living Up to the Hype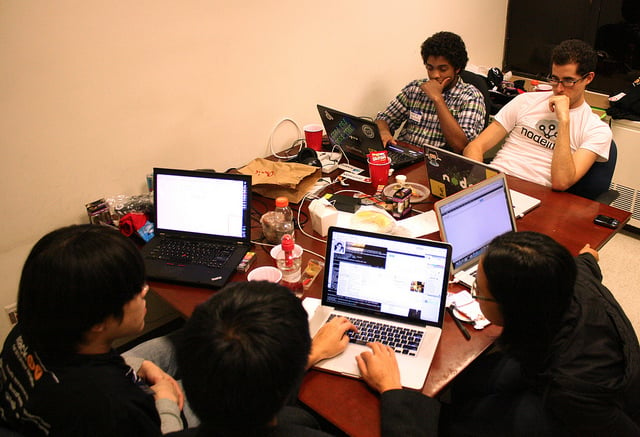 Rounding out the four-day shopping extravaganza, Cyber Monday kicked off today, promising consumers some of the best deals they will find all year. The holiday is an increasingly popular one, thanks to the trend of more customers doing the majority of their shopping online, but online retailers only recently started enjoying the significant Cyber Monday buildup, and interestingly enough, the holiday's hype came before the life.
According to CNN, Cyber Monday unofficially launched in 2005, but it was still only the 10th busiest day for online sales that year — and in 2006, it was the 12th. The shopping holiday was at risk for becoming irrelevant, but was eventually saved by retailers who were encouraged to offer more Cyber Monday sales, drawing consumers to their computers on the special Monday after the Thanksgiving weekend. Now, ever since 2010, Cyber Monday has been the biggest day of the year for online sales, and as Andrew Lipman, vice president of marketing and insights at comScore, explains, "It became a self-fulfilling prophecy."
Shop.org, a division of the National Retail Federation, coined the name Cyber Monday, and the day finally started having an effect on sales figures after retailers felt the nudge to offer online sales. Popular brick-and-mortar companies like Wal-Mart (NYSE:WMT) and Target (NYSE:TGT), for example, are known more for their Black Friday deals more than their Cyber Monday ones. But thanks to the growing hype of online shopping, they have had no choice but to bolster their online presences and offer more appealing deals. Lipman believes that Cyber Monday will continue to lead online sales in the future, but maintains that online retailers will also enjoy significant e-commerce growth in other days as well. CNN reports that Black Friday online sales were up 28 percent last year, topping $1 billion for the first time, and that compared to 17 percent growth for Cyber Monday.
E-commerce giants like Amazon.com (NASDAQ:AMZN) also have the mobile platform to thank for growth in online sales this year, because consumers are now more often turning to the practice of Showrooming, or looking at an item in stores, and then making the purchase for less online via their mobile devices or personal computers.
Cyber Monday sales numbers still pale in comparison to those of Black Friday, with ShopperTrak estimating in-store sales for Black Friday 2012 hitting $11.2 billion. But as the popularity of e-commerce grows, so too will Cyber Monday, and shoppers may soon become more turned off by the idea of fighting for their products at brick-and-mortar retailers and instead may choose to shop from their comfort of their own homes.
The 2013 holiday shopping season is especially unique, because it is 6 days shorter than in years previous, and is estimated to be one of the least lucrative shopping periods for retailers since 2008. Modest sales estimates from industry researchers have prompted retailers to offer more appealing deals than ever, but Reuters points out that these discounts may actually be hurting companies more than they are helping.
Reuters reported Monday that shoppers spent 3 percent less this year during the Thanksgiving weekend than they did a year earlier thanks to heavy discounting. The NRF estimated the average shopper spent $407.02 over the weekend, and that is 3.9 percent less than during the same weekend last year, because of lower prices that are expected to extend through the rest of the season. NRF Chief Executive Matthew Shay explains, "Retailers will continue to aggressively promote their in-store and online offerings, looking to entice today's very budget-conscious and value-focused shopper."
The big deals may draw shoppers to the cash registers, but they also dent profit margins. This could hurt retailers throughout the rest of the holiday shopping season as Thanksgiving weekend is usually an effective gauge of consumer sentiment and intentions for the rest of the period.
On the other hand, according to Reuters, ComScore said that U.S. online sales rose 17.3 percent on Thanksgiving and Black Friday, beating sales growth at brick-and-mortar stores. The analytics firm forecasts a 16 percent jump in online sales for the season, thanks to the greater use of mobile devices, and the most visited e-commerce sites are Amazon, eBay (NASDAQ:EBAY), Wal-Mart, Best Buy (NYSE:BBY), and Target.
Don't Miss: Amazon's Kiva Acquisition Leaves Some Retailers Hanging.