Cha-Ching: Wal-Mart Sues Visa for $5B Over Card Swipe Fees
It's been a busy week in the courts. Two banks filed a lawsuit against Target (NYSE:TGT) and its security auditor, Trustwave Holdings, on Monday; the next day, Wal-Mart Stores (NYSE:WMT), one of Target's main competitors, sued Visa Inc. (NYSE:V) for $5 billion, alleging that the card network charges unreasonably high card swipe fees. The lawsuit this week comes months after a federal judge approved a class-action settlement between merchants and Visa and MasterCard (NYSE:MA).
According to reports from both Reuters and The Wall Street Journal, Wal-Mart's suit, filed in the U.S. District Court for the Western District of Arkansas on Tuesday, reflects Wal-Mart's freedom to fight security card networks that it now enjoys on account of it opting out of the aforementioned class-action settlement. Amazon.com (NASDAQ:AMZN) and Target also chose to stay out of the $5.7 billion settlement that a federal judge in Brooklyn approved in December, Reuters reports, and so they also retained the option of fighting for their own damages incurred.
This week, Wal-Mart filed a suit complaining that the excessively high card swipe fees Visa charges has caused its sales to suffer. According to Reuters, the court documents from Wal-Mart maintain that "The anticompetitive conduct of Visa and the banks forced Wal-Mart to raise retail prices paid by its customers and/or reduce retail services provided to its customers as a means of offsetting some for the artificially inflated interchange fees. As a result, Wal-Mart's retail sales were below what they would have been otherwise."
Wal-Mart's suit illuminates the longstanding battle between the retailer and the payments network. Every time a customer pays with a credit card or debit card, retailers are charged fees set by Visa, Mastercard, and other card networks.
Charges have been filed against Visa and Mastercard for years, but in this recent lawsuit involving Wal-Mart, the Journal reports that the retailer is claiming that the way Visa set its "swipe fees" violated antitrust regulations and resulted in costs of more than $350 billion that card issuers have had to swallow over a course of nine years.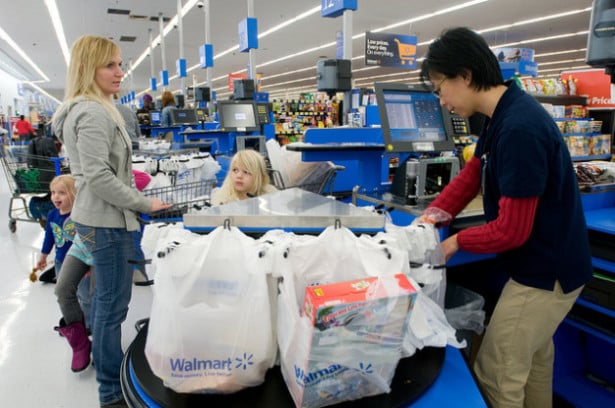 Retailers and customers take a beating from these charges indirectly, because, as outlined in Wal-Mart's court filings, the retailer has had to raise its prices in order to offset some of the losses incurred from the interchange fees — that's what precipitated the lawsuit on Tuesday.
This isn't the first time payments networks like Visa and Mastercard have fielded complaints, but they settled the issue with many smaller retailers in July 2012, with the aforementioned class-action settlement. That's also how they silenced some of the outcry about fees that are allegedly set too high due to a lack of competition in the market space between Visa and Mastercard. However, it's now clear that the two financial services companies' battles are far from over. 
The Wall Street Journal reported on Thursday that the companies that opted out of the class-action settlement decided against waiving their rights to sue payments networks on current or future payment methods, so along with Wal-Mart, Amazon, Target, and Macy's (NYSE:M) can still fight for their own settlements.
Wal-Mart became the first major retailer to file a lawsuit on Tuesday, fighting for an end to the unreasonably high swipe fees, and it's unlikely to be the last. And what's worse for Visa is that according to the Journal, Wal-Mart also included in its filing that Visa's payment card security is not up to date.
Turning a spotlight on the Target and Neiman Marcus data breaches, the publication reported that Wal-Mart included in its suit the assertion that "Wal-Mart was further harmed by anti-innovation conduct on the part of Visa and the banks, such as perpetuating the use of fraud-prone magnetic stripe system in the U.S. and the continued use of signature authentication despite knowledge that PIN authentication is more secure, a fact Visa has acknowledged repeatedly."
More From Wall St. Cheat Sheet: