Challenger: Rising Layoffs Don't Spell Economic Doom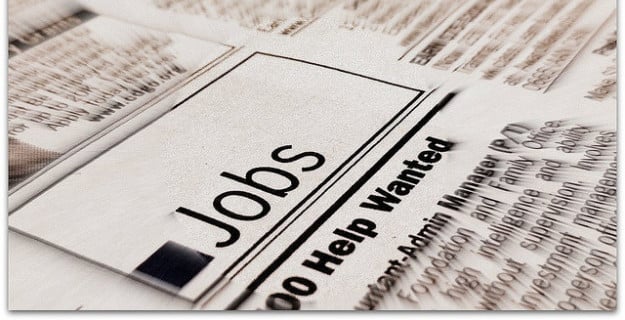 For months, the number of planned layoffs have been trending down, and even if they did not always fall below year-ago levels, they were on pace to fall below 2012's total of 523,362 — which was the lowest level since 1997.
However, job cuts rose to the highest level since February as employers based in the United States announced plans to decrease payrolls by 50,462 jobs, 33.8 percent more than July's 37,701-job cut, according to a Thursday report from the global outplacement consultancy firm Challenger, Gray & Christmas. Job cuts in August were also 57 percent higher than a year ago when employers announced 32,239 layoffs, and it is the third consecutive month in which job cuts were greater than in the comparable month of 2012.
So far in 2013, employers have announced 347,095 job cuts, just below the 352,185 job cuts announced in the January through August period in 2012. The industrial goods sector took the hardest hit. Manufacturers announced 22,162 job cuts — the largest layoff in the sector since January 2009 when 32,083 job cuts were announced — the largest one-month total for a single industry category in 2013. The cuts also nearly surpassed the 26,10 jobs cuts announced by industrial goods manufacturers in all of 2012.
"Heavy job cuts in the industrial goods sector are never a good thing as they can be indicative of widening cracks in the economy's foundation. However, the August surge in industrial goods job cuts was driven largely by falling global demand for mining equipment. While that definitely has an impact on the economy, it is not as worrisome as an overall slowdown in construction or manufacturing," said John A. Challenger, chief executive officer of Challenger, Gray & Christmas, in the press release accompanying the data.
In Challenger's opinion, the manufacturing cuts are not as worrisome as they could be because "U.S. manufacturing activity has been on the rise, hitting a five-month high in August, according to the most recent manufacturing purchasing index."
In addition, "GDP grew at a better-than-expected 2.5 percent annual rate in the second quarter," Challenger said. Still, "there are definitely challenges ahead, including the precarious situation in the Middle East, uncertainty over the impact of health care reform, and possible shifts in monetary policy, but the economy is in a much better position to weather these storms than it was just a year or two ago," he added.
After the industrial goods sector, the computer sector announced the second-highest job cuts with 4,663 layoffs in August, an increase of 194 percent from July's 1,587 cuts.
The financial sector has lost the greatest number of jobs of any sector this year to date. The sector's eight-month total of $41,942 is 56 percent higher than the 26,887 financial-sector jobs cut in the first eight months of 2012. Challenger attributed August's approximately 3,100 jobs cut from financial companies' payrolls last month to the falling demand for mortgage products.
When mortgage rates were at record lows, refinancing business soared, but with the recent increase in interest rates, refinancing products have dropped from around 70 percent of all mortgage originations to about half of all applications. The Mortgage Bankers Association reported that mortgage applications declined 4.5 percent in the week ending August 16.
Naturally, fewer mortgage applications have ramifications for the housing market and for the wider economy as well as for the financial sector. "The housing market has been showing signs of life lately. It would be a real blow to the economy if that progress were to suddenly grind to a halt because of rising interest rates. This sector drives so many other parts of the economy, including construction, retail spending, consumer goods manufacturing, that it is vital to keep it moving upward," said Challenger.
While Challenger's report showed employers laid off workers in August in far greater numbers than they did earlier in the year, data from the Department of Labor indicates that layoffs have been generally decreasing. Throughout the month of August, weekly claims for unemployment benefits — which serve as a proxy for layoffs — have risen as many times as they have fallen, but since the middle of July, initial claims have not strayed far from the 330,000 level, supporting expectations that job gains will be much stronger in the month of August than they were in July.
"The trend remains very encouraging,"  Moody's Analytics senior economists  Ryan Sweet told Bloomberg after last week's claims numbers were released. "It suggests the job market is strengthening."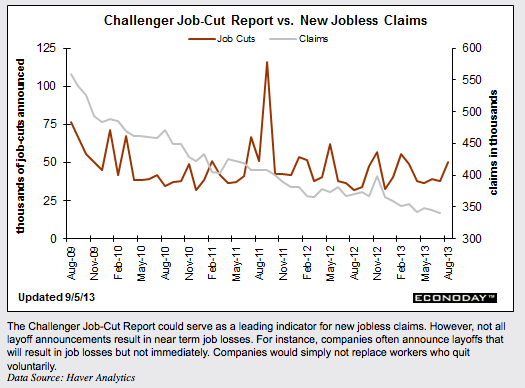 Follow Meghan on Twitter @MFoley_WSCS