Charles Schwab Earnings Cheat Sheet: Profits Pump Up Chuck
The Charles Schwab Corporation (NYSE:SCHW) reported net income above Wall Street's expectations for the first quarter. S&P 500 (NYSE:SPY) component Charles Schwab Corp. is a savings and loan holding company. Through its subsidiaries, the company provides individuals and institutional clients with securities brokerage, banking and related financial services.
The Charles Schwab Earnings Cheat Sheet for the First Quarter
Results: Net income for the investment brokerage rose to $243 million (20 cents/share) vs. $6 million (0 cents/share) YoY. A 3950% rise from the year earlier quarter.
Revenue: Rose 14.8% to $1.21 billion YoY.
Actual vs. Wall St. Expectations: SCHW beat the mean analyst estimate of 19 cents/share. Estimates ranged from 17 cents to 20 cents.
Quoting Management: Chairman Charles Schwab said, "Although still choppy, the environment is improving and investors are actively engaged with us across all our businesses. Recent data shows that our economy is growing and adding jobs again, the unemployment rate is beginning to recover, and leading indicators are rising. The equity markets are responding, with the major indices rising by approximately 5% during the first quarter. Our clients are working with us to ensure they are participating in the markets appropriately – they have now reduced the percentage of their assets at Schwab held in cash to pre-crisis levels. At the same time, investors are faced with navigating ongoing challenges – including geopolitical turmoil, vacillating energy prices, and the aftermath of major natural disasters – highlighting the importance of the diverse full-service solutions and advice we provide. Overall, approximately $800 billion of the client assets currently at Schwab are either enrolled in one of our advisory offerings or under the guidance of an independent advisor, up 16% from a year ago."
Key Stats: Last quarter's profit increase breaks a streak of two consecutive quarters of year-over-year profit decreases. The company recently acquired OptionsXpress (NASDAQ:OXPS).
Competitors to Watch: E*TRADE Financial (NASDAQ:ETFC), TD Ameritrade (NASDAQ:AMTD), Interactive Brokers (NASDAQ:IBKR), LPL Investment Holdings (NASDAQ:LPLA), Tradestation (NASDAQ:TRAD), Stifel Financial (NYSE:SF), Citigroup (NYSE:C) and Raymond James (NYSE:RJF).
Today's Performance: Shares of SCHW closed at $18.61 onApril 15, 2011: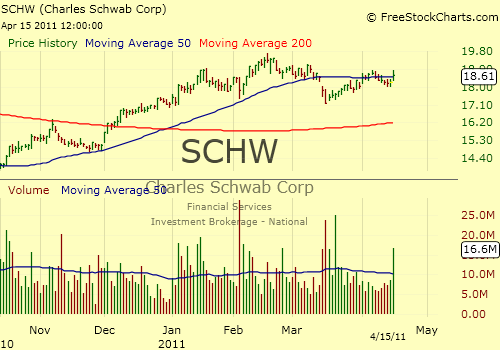 Don't Miss: Wall St. Cheat Sheet's newest Feature Trades of the Month!