CHART OF THE DAY: A Major Engine of the Economy Is Not Double Dipping
This morning's PMI Manufacturing data from the Institute for Supply Management was much better than Wall Street expected. The PMI index rose to 60.8% in January from 58.5% in December. The ISM notes:
Economic activity in the manufacturing sector expanded in January for the 18th consecutive month, and the overall economy grew for the 20th consecutive month.
Here's how that looks compared to pre-crisis levels at the start of 2006 (Click for Larger Image):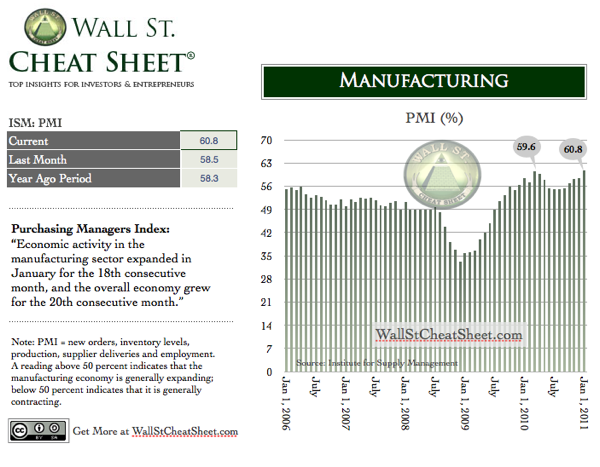 Performance by Industry in Order of Growth
Sector Performance = 14 winners and 4 losers
Petroleum & Coal Products; (

expanded

)
Primary Metals; (

expanded

)
Apparel, Leather & Allied Products; (

expanded

)
Wood Products; (

expanded

)
Computer & Electronic Products; (

expanded

)
Transportation Equipment; (

expanded

)
Fabricated Metal Products; (

expanded

)
Machinery; (

expanded

)
Paper Products; (

expanded

)
Miscellaneous Manufacturing; (

expanded

)
Chemical Products; (

expanded

)
Furniture & Related Products; (

expanded

)
Food, Beverage & Tobacco Products; (

expanded

)
Electrical Equipment, Appliances & Components; (

expanded

)
Textile Mills; (

contracted

)
Printing & Related Support Activities; (

contracted

)
Plastics & Rubber Products; (

contracted

)
Nonmetallic Mineral Products. (

contracted

)
Is Your Portfolio Expanding like Manufacturing? Join the winning team of stock pickers with Wall St. Cheat Sheet's acclaimed premium newsletter >>