Chart of the Day: Facebook Mobile Leads the Way
Shortly before Facebook (NASDAQ:FB) went public last year, founder and chief executive officer Mark Zuckerberg told hundreds of investors at a roadshow event that mobile was the company's top priority. He declared the social network's mobile app needed to be improved and the process was "just getting started." While Facebook's initial public offering was anything but flawless, Zuckerberg's commitment to mobile is attracting likes.
Through several much-needed updates and deeper integration with Apple's (NASDAQ:AAPL) iOS 6, Facebook is capturing more minutes than ever before on mobile devices.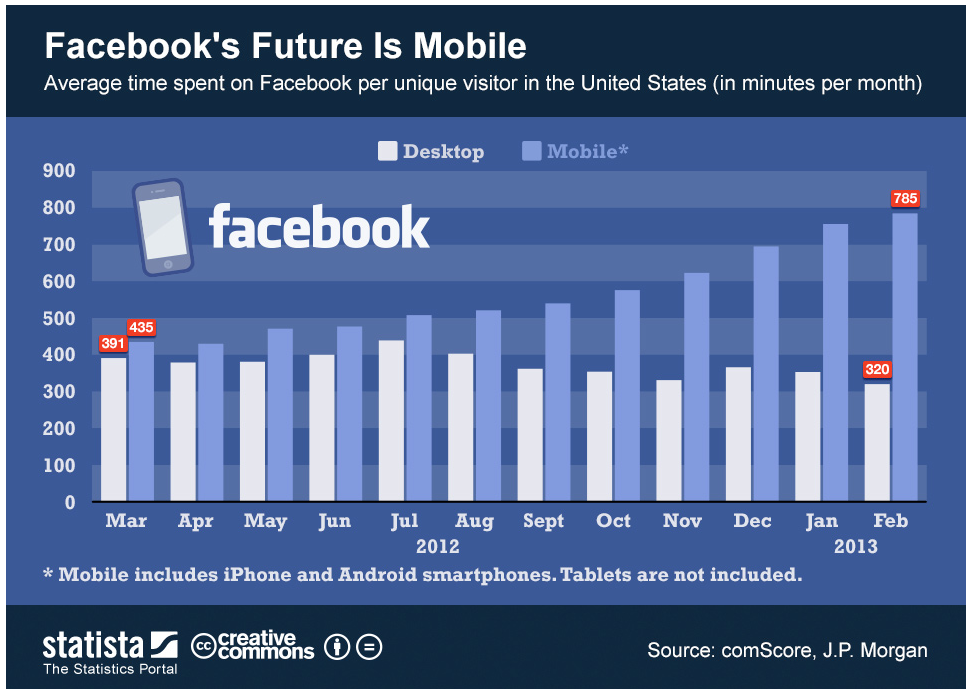 As the chart above from Statista shows, mobile Facebook users in the United States spent an average of 785 minutes on the social network in February, more than double the 320 minutes for desktop users. This spread is a far cry from March 2012, when desktop and mobile logged 391 minutes and 435 minutes, respectively.
Facebook's mobile timeline continues to expand. Earlier this month, the company unveiled Facebook Home, a new home screen for mobile devices that makes accessing Facebook a given as soon as you turn on your phone. It runs on Google's (NASDAQ:GOOG) Android operating system and will be available on limited HTC phones on AT&T's (NYSE:T) network April 12.
Don't Miss: Is Wall Street Finally Accepting Social Media?