Chart of the Day: US Services Sector Humming Along to New High
This morning's ISM Non-Manufacturing data from the Institute for Supply Management was another metric supporting economic recovery. The NMI index rose to 59.7% in January from 59.4% in January. The ISM notes:
Economic activity in the non-manufacturing sector expanded in February for the 15th consecutive month.

The Non-Manufacturing Business Activity Index increased 2.3 percentage points to 66.9 percent, reflecting growth for the 19th consecutive month and at a faster rate than in January. The New Orders Index decreased 0.5 percentage point to 64.4 percent, and the Employment Index increased 1.1 percentage points to 55.6 percent, indicating growth in employment for the sixth consecutive month and at a faster rate. The Prices Index increased 1.2 percentage points to 73.3 percent, indicating that prices increased at a faster rate in February. According to the NMI, 13 non-manufacturing industries reported growth in February. Respondents' comments overall are mostly positive about business conditions and the direction of the economy.
Here's how that looks compared to pre-crisis levels at the start of 2008 (Click for Larger Image):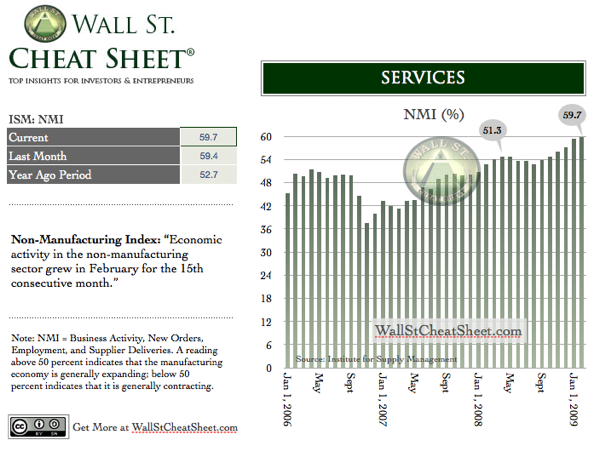 Performance by Industry in Order of Growth
Sector Performance = 13 winners and 5 losers
Real Estate, Rental & Leasing; (

expanded

)
Accommodation & Food Services; (

expanded

)
Mining; (

expanded

)
Utilities; (

expanded

)
Professional, Scientific & Technical Services; (

expanded

)
Educational Services; (

expanded

)
Transportation & Warehousing; (

expanded

)
Finance & Insurance; (

expanded

)
Other Services; (

expanded

)
Public Administration; (

expanded

)
Wholesale Trade; (

expanded

)
Management of Companies & Support Services; (

expanded

)
Retail Trade; (

expanded

)
Agriculture, Forestry, Fishing & Hunting; (

contracted

)
Construction; (

contracted

)
Health Care & Social Assistance; (

contracted

)
Arts, Entertainment & Recreation; (

contracted

)
Information. (

contracted

)