Chart of the Day: US Services Sector Trying to Hold On
This morning's ISM Non-Manufacturing data from the Institute for Supply Management is continuing to cool down as the NMI index pulled back to 52.8% for April, down from 57.3% in March and 59.7% in February. The ISM notes:
Economic activity in the non-manufacturing sector grew in April for the 17th consecutive month.

The NMI registered 52.8 percent in April, 4.5 percentage points lower than the 57.3 percent registered in March, and indicating continued growth at a slower rate in the non-manufacturing sector. The Non-Manufacturing Business Activity Index decreased 6 percentage points to 53.7 percent, reflecting growth for the 21st consecutive month, but at a slower rate than in March. The New Orders Index decreased substantially by 11.4 percentage points to 52.7 percent. The Employment Index decreased 1.8 percentage points to 51.9 percent, indicating growth in employment for the eighth consecutive month, but at a slower rate. The Prices Index decreased 2 percentage points to 70.1 percent, indicating that prices increased at a slightly slower rate in April when compared to March. According to the NMI, 17 non-manufacturing industries reported growth in April. Respondents' comments are mixed about overall business conditions; however, they are mostly positive. Respondents' comments also indicate concern over rising fuel costs, commodity costs and the lingering uncertainty about the economy.
Here's how that looks compared to pre-crisis levels at the start of 2008 (Click for Larger Image):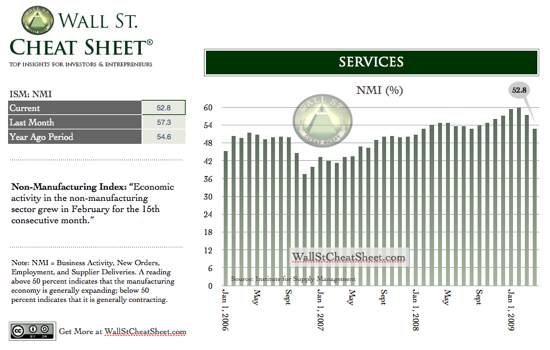 Performance by Industry in Order of Growth
Arts, Entertainment & Recreation; (

expanded

)
Agriculture, Forestry, Fishing & Hunting; (

expanded

)
Mining; (

expanded

)
Management of Companies & Support Services; (

expanded

)
Information; (

expanded

)
Other Services; (

expanded

)
Wholesale Trade; (

expanded

)
Utilities; (

expanded

)
Public Administration; (

expanded

)
Accommodation & Food Services; (

expanded

)
Construction; (

expanded

)
Real Estate; (

expanded

)
Rental & Leasing; (

expanded

)
Educational Services; (

expanded

)
Health Care & Social Assistance; (

expanded

)
Transportation & Warehousing; (

expanded

)
Professional, Scientific, & Technical Services; (

expanded

)
Finance & Insurance; (

expanded

)
Retail Trade; (

contracted

)