Charter's Shares Jump and 4 Stocks Riding 52-Week Highs
Church & Dwight Co. (NYSE:CHD): Closing price $59.10
On January 30th, the firm's board declared a 17 percent rise in the regular quarterly dividend from 24 to 28 cents, equivalent to an annual dividend of $1.12 or a current dividend yield of about 2 percent per share. The dividend will be payable March 1st to stockholders of record at the close on February 15th. Shares closed up 1.2 percent on the day at $59.10, and have traded in a 52-week range of $46.05 to $59.27.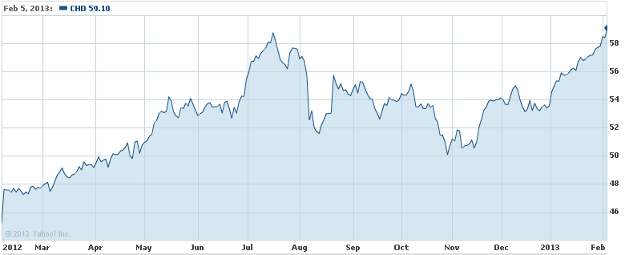 Charter Communications (NASDAQ:CHTR): Closing price $81.53
Charter shares jumped amid chatter of an impending deal with Time Warner (NYSE:TWX), according to Deadline New York. Shares closed up 6.34 percent on the day at $81.53 , having been traded in a 52-week range of $57.62 to $83.41.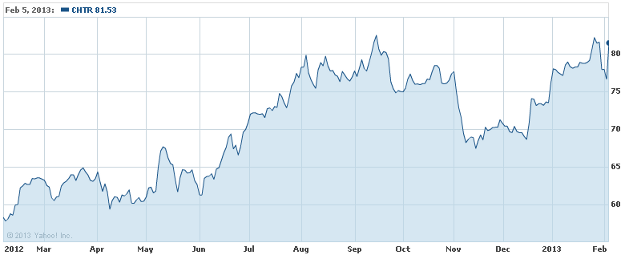 Canadian National Railway Company (NYSE:CNI): Closing price $95.84
CN intends to invest around C$1.9 billion in 2013 to maintain and upgrade its railway network, boost the business efficiently, and continue to enhance customer service. An amount in excess of C$1 billion will be spent on track infrastructure to continue operating a safe railway and to further the output and fluidity of the network. CN also expects to spend approximately $700M to grow with its customers across a range of markets as they expand their business. Shares closed up 0.58 percent on the day at $95.84, and have been traded in a 52-week range of $74.50 to $96.08.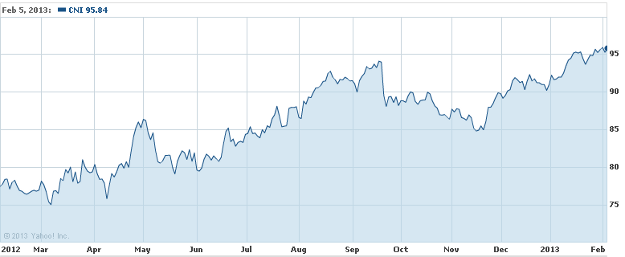 Computer Sciences Corporation (NYSE:CSC): Closing price $45.75
The firm posts third quarter revenue of $3.79 billion with consensus of $3.69 billion. Earnings includes a workforce restructuring charge of $26 million, or 13 cents per share. Shares closed up 9.16 percent on the day at $45.75, having been traded in a 52-week range of $22.19 to $43.00.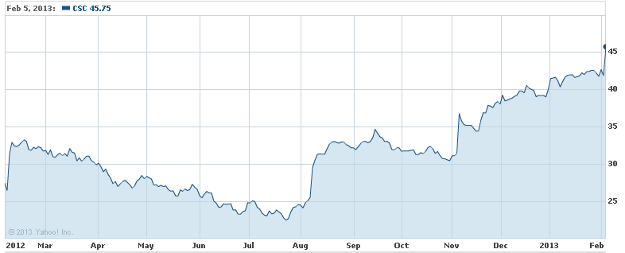 Estee Lauder Companies (NYSE:EL): Closing price $64.71
The company estimates fiscal year net sales up between 6 and 7 percent in constant currency, with consensus at $10.24 billion. Foreign currency translation should negatively impact sales by about 1 percent compared to the prior year. The firm will take charges linked with restructuring activities in fiscal year 2013 of about $25 million, equal to around 4 cents per diluted common share. In regards to its long-term strategic plan, along with certain ongoing initiatives, the firm expects to realize savings of between $50 million-$75 million during the period. Shares clsoed up 6 percent on the day at $64.71 and have traded in a 52-week range of $49.81 to $65.60.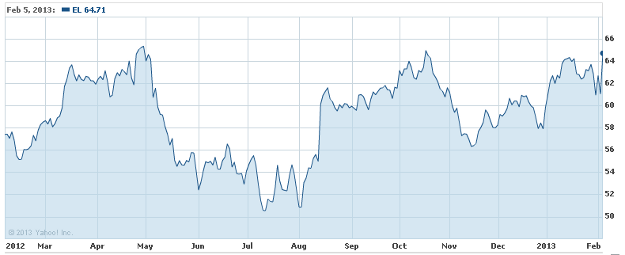 Don't Miss: Which Company is Right? H-P or Dell?