Check Out the NEW Wall St. Cheat Sheet Facebook Page!
Finally! The NEW Wall St. Cheat Sheet Facebook page is here. Phew.
If you've been one of the 5,000+ friends with us on Facebook, you've really been friends with our CEO Derek Hoffman. Although we love Derek, company pages have many more fun features for you to socialize with other investors and business junkies. (Sorry, Derek.)
So, don't waste another second staring at the static image below. Click here to like Wall St. Cheat Sheet on Facebook now!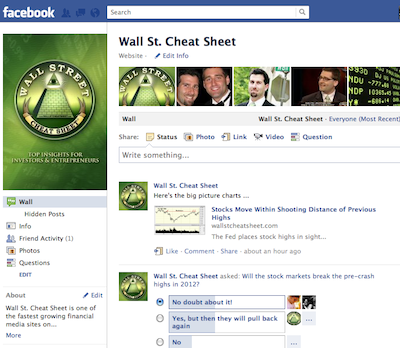 To contact the editor responsible for this story: Damien Hoffman at editors@wallstcheatsheet.com.