Chesapeake Pines For a New CEO and 4 Other Hot Stocks
Here's a tale of two auto shows. One with cars priced in the millions of dollars located in a continent with the bottom falling out of its car sales. No prizes for guessing this was the Geneva auto show. The other, across the pond in New York, chock-full of cars such as the Acura MDX, Buick LaCrosse, Dodge Durango, Honda Odyssey, Jeep Cherokee, and Toyota Highlander. Oh sure, you could spot the occasional Mercedes-Benz CLA45 AMG, but basically none of the OTT glitz of Geneva. Clearly, a show sensibly targeting the real buyers out there, those that are likely to help automakers such as General Motors (NYSE:GM) and Ford (NYSE:F) take out the 15 million mark in sales of US light vehicles this year.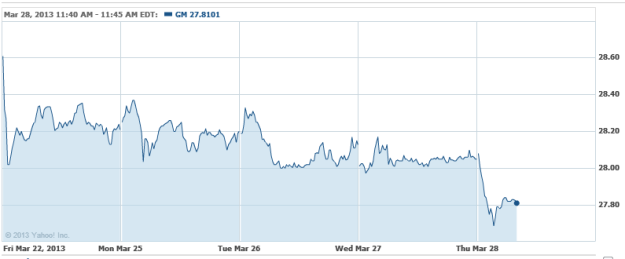 Wal-Mart (NYSE:WMT) is planning an innovative delivery process that might help it compete better with online shopping giant Amazon (NASDAQ:AMZN). The idea is still in its early planning stages, would have store customers deliver orders to online purchases, for a charge that would include the space in their car as well as the time and effort to deliver. A Reuters article on this says this could be a new form of crowd sourcing. Obviously, legal, regulatory and privacy concerns need to be ironed out, but it shows how determined the retailer is in making a mark in online commerce. Currently deliveries from stores are managed via FedEx Corp, or its own delivery trucks, the latter being tested in five metro areas. "This is that the brainstorming stage, but it's possible in a year or two," said Jeff McAllister, senior vice president of Walmart US innovations.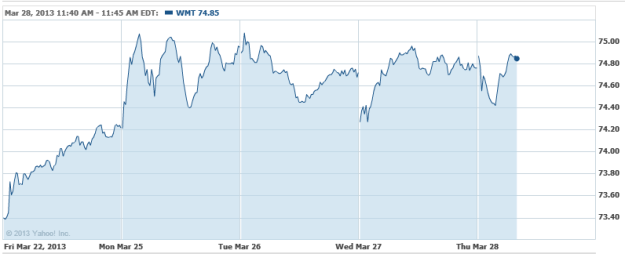 Aubrey McClendon, current Chief Executive at Chesapeake Energy (NYSE:CHK) steps down on Monday, even though the company's board is struggling to find his replacement, and may miss its deadline of April 1. Chief Operating Officer Steve Dixon and Chairman Archie Dunham will hold the fort in the meanwhile. McClendon's departure was triggered by a governance crisis at the company, as well as a massive cash crunch caused by heavy expenditure on the acquisition of oil and gas assets, which were difficult to service after the price of natural gas collapsed. The board may be finding it difficult to locate a candidate because of a tight market for oil industry CEOs, as well as the company's well-known problems of excessive leverage, cash flow issues and its complex web of joint ventures and off the balance sheet involvements.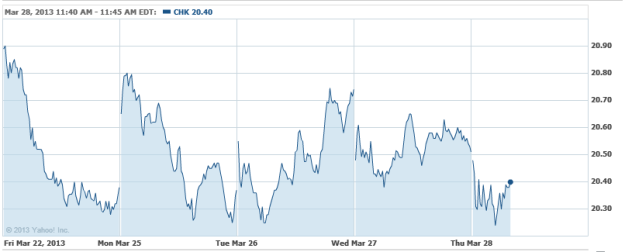 US Bankruptcy Judge Sean Lane approved the merger between American Airlines parent AMR Corp (AAMRQ.PK) and US Airways Group (NYSE:LCC) at a hearing on Wednesday, bringing American closer to finally exiting bankruptcy protection. A bankruptcy reorganisation plan would still need court approval, but this should occur in about six months. American, however, did not get all what they wanted — the judge did not sanction a $20 million severance deal for its Chief Executive Officer Tom Horton, bowing to opposition from the US government, claiming it violated bankruptcy laws. The rejection is unlikely to affect the merger between the two airlines, which will create the world's largest carrier.

Don't Miss: Cadillac's New CTS Is Geared To Take On Germany.