Chesapeake Shareholders Receive Small Victory
It has been a bumpy ride for shareholders of Chesapeake Energy Corporation (NYSE:CHK).  After peaking at $67 in 2008, shares have fluctuated between $20 and $35 for the past two years.  Looking back, were there any warning signs that this once high flying natural gas giant was in trouble?
Deploying our CHEAT SHEET investing framework, we find trouble with Chesapeake in our 'Technicals on the Stock Chart are Strong' requirement.  As the chart below shows, Chesapeake had a nice upward sloping channel from 2004 to late 2008.  However, shares formed a massive blow off top in mid 2008.  Euphoria came over investors, and pushed Chesapeake's share price up to $67 before collapsing.  Combined with the credit crisis, the blow off top sent shares down to a low of only $11.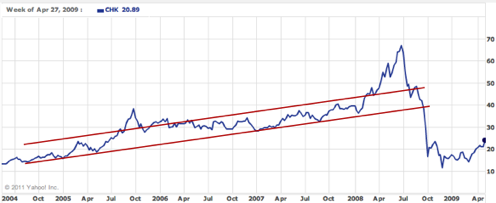 Other natural gas (NYSE:UNG) plays such as Devon Energy (NYSE:DVN) and Anadarko Petroleum Corporation (NYSE:APC) also fell hard, but Chesapeake's collapse stands out because of its management.  The 'A' in our CHEAT SHEET framework stands for 'A-Level Management Runs the Company.'  This component at Chesapeake is questionable at best.  CEO McClendon made the fatal mistake of betting the farm using margin.  He was so confident in Chesapeake, that he purchased a significant amount of shares by borrowing from his broker against the value of his billion-dollar holdings.  As the share price collapsed, McClendon was forced to sell almost everything to meet margin calls, thus providing more fuel for the fire.  What's even more troubling, is that McClendon, the 2008 highest-paid CEO of all S&P 500 (NYSEARCA:SPY) companies, sold $12 million worth of historic maps to Chesapeake in order to raise cash.  Shareholders were not pleased with the move, and have been fighting Chesapeake ever since.  The Louisiana Municipal Police Employees' Retirement System filed suit in 2009 challenging McClendon's pay package, which included $77 million in bonuses in addition to the historic map sale.
On Thursday, shareholders finally received a small victory.  McClendon finally agreed to cough up $12 million plus interest in order to buy back the infamous map collection he sold to shareholders in 2008.  Bloomberg reports, "Chesapeake pledged a more transparent management pay plan after more than a third of shareholders refused to endorse the company's executive compensation."  Although this is a step in the right direction, it is still too early to jump back into Chesapeake shares, based on our CHEAT SHEET investing framework.
Other Energy Plays Include:  Pinnacle Gas Resources, Inc. (PINN), Questar Corporation (NYSE:STR), BreitBurn Energy Partners L.P. (NASDAQ:BBEP), Legacy Reserves LP (NASDAQ:LGCY), PostRock Energy Corp. (NASDAQ:PSTR), Marathon Oil Corporation (NYSE:MRO), Crusader Energy Group Inc. (CKGRQ), Hess Corp. (NYSE:HES), Pioneer Southwest Energy Partners L.P. (NYSE:PSE), Chevron (NYSE:CVX), and NGAS Resources, Inc. (NASDAQ:NGAS).
Investing Insights: Here's How to Avoid Sony and Find the Next Apple.