Cheviot Board Approves Repurchase and 4 Stocks Hitting 52-Week Highs
The Carlyle Group (NYSE:CG): Closing price $27.91
The TCW Group, EIG Global Energy Partners and worldwide alternative asset manager The Carlyle Group have jointly announced an accord under which EIG is now supportive of the purchase of TCW by investment funds affiliated with Carlyle and TCW management, and will aid TCW in securing investor consents for the transaction. Further, the firm will maintain its economic interest in existing EIG-managed funds, while the latter will assume full management responsibility for the Funds as general partner and investment manager. EIG will buy TCW's economic interest in future EIG-managed Funds, which completes the consensual spin-off from TCW that was announced in January of 2011. The transaction should close in the near future. Shares closed up 3.37 percent on the day at $27.91, having been traded in a 52-week range of $20.00 to $27.90.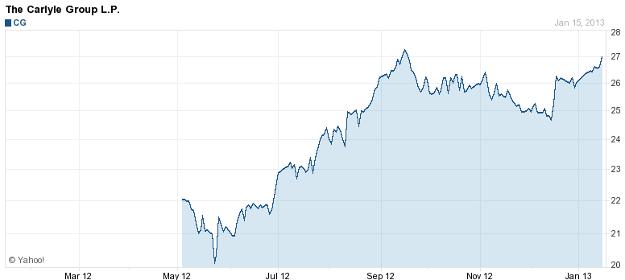 Cheviot Financial corp. (NASDAQ:CHEV): Closing price $10.00
On Tuesday, Cheviot Financial's board authorized the repurchase of as many as 759,654 shares, or about 10 percent, of its outstanding common stock. The stock buyback program will not be effective until January 21st, which is after the one-year anniversary of the firm's second-step conversion. Shares closed up 3.63 percent on the day at$10.00, and have traded in a 52-week range of $8.01 to $9.74.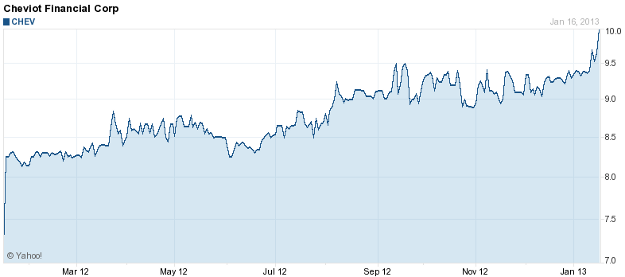 Start 2013 better than ever by saving time and making money with your Limited Time Offer for our highly-acclaimed Stock Picker Newsletter. Click here for our fresh Feature Stock Pick now!
Canadian National Railway Company (NYSE:CNI): Closing price $95.33
CN and the Indiana Rail Road Company have reached an agreement on the construction of an intermodal terminal in Indianapolis and also their plan to offer Indiana importers and exporters an all-rail option for containerized products moving to and from Asia. The company estimates that containerized import goods will flow in as little as 18 to 20 days from port loading in Shanghai and Qingdao, and Busan, Korea, to the INRD Senate Avenue Terminal, when using first port of call service.  Shares closed up 0.14 percent on the day at $95.33, having been traded in a 52-week range of $74.50 to $95.37.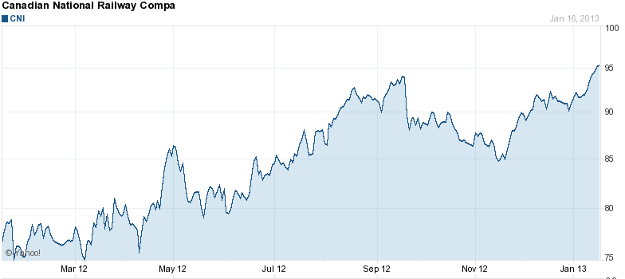 DDR Corp (NYSE:DDR): Closing price $15.79
Strong tenant demand and successful previously announced projects have enabled DDR to broaden its redevelopment program on the island to $90 million from $50 million. Shares closed up 0.38 percent on the day at $15.79, and have been traded in a 52-week range of $13.27 to $16.01.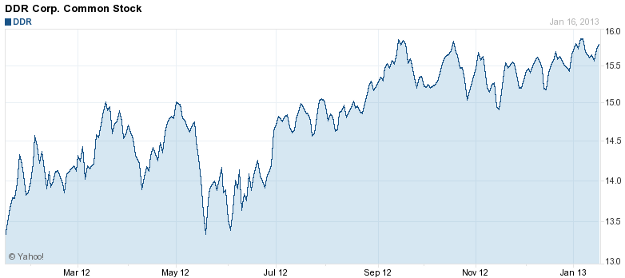 El Paso Pipeline Partners (NYSE:EPB): Closing price $39.59
El Paso has raised its quarterly cash distribution per common unit to 61 cents, payable on Feb. 14th, to unitholders of record as of Jan. 31st. This amount marks a 22% increase year-over-year from the 2011 cash distribution per unit of 50 cents and a 5 percent rise from 58 cents per unit in the third quarter. Shares closed up 0.25 percent on the day at $39.59, having been traded in a 52-week range of $30.64 to $39.49.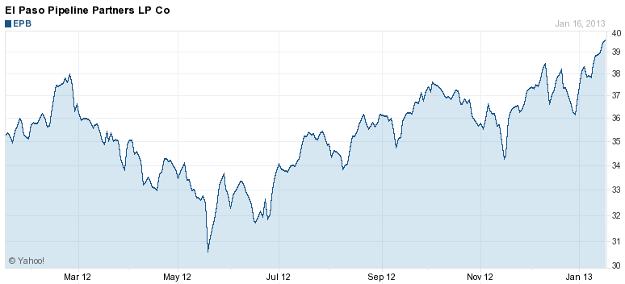 Investing Insights: Is Joy Global's Stock a Buy Now?