Chevron Asks for Clarity in Polish Shale Gas Exploration and 2 Other Dow Movers to Watch
Chevron Corp. (NYSE:CVX): Current price $123.35
Chevron affirmed on Tuesday that it is committed to shale gas exploration in Poland but seeks more consultation with the government regarding draft amendments to rules before their adoption. Blaming geology and deficits in the regulatory environment, three foreign firms — Exxon Mobil, Talisman, and Marathon — have already withdrawn from Polish shale gas. Industry lobby groups say draft amendments to the hydrocarbons law, though they are better than previous versions, do not sponsor the correct conditions for firms to invest in Poland, which some in the industry view as Europe's best shale gas hope.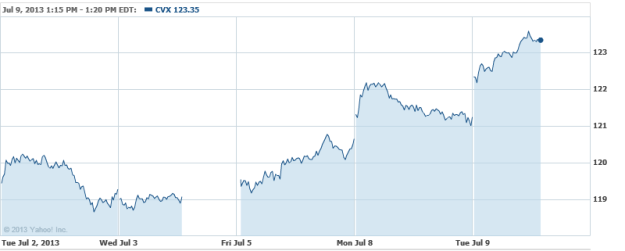 DuPont Co. (NYSE:DD): Current price $53.93
DuPont announced the expansion of capabilities within its Silicon Valley technology center. The firm will employ this center to advance product and process development, and increase application support to customers on a global basis, specifically in Silicon Valley. In 2011, DuPont acquired the startup Innovalight, located at the same site.  Since that purchase, DuPont has continued to invest in facilities, tools, and lab improvements to enhance the site's potential.

Proctor & Gamble Co. (NYSE:PG): Current price $79.52
Procter & Gamble's board on Tuesday declared a quarterly dividend of 60.15 cents per share on the company's common stock and on the Series A and Series B ESOP Convertible Class A Preferred Stock, payable on or after August 15, to shareholders of record at close on July 19, as well as to Series A and Series B Preferred Stock shareholders of record at the start of business on the same date. Procter & Gamble has been paying a dividend for 123 straight years since its incorporation in 1890 and has increased its dividend for 57 consecutive years.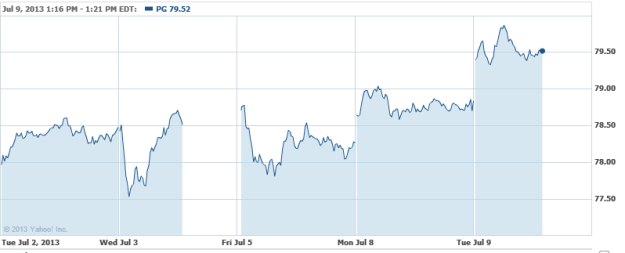 Don't Miss: What Is the Impact of Oil Theft?