Chevron Commits to Canada, Zillow Sells Off on Citron Report, and 3 More Hot Stocks
Chevron Corp. (NYSE:CVX): It's been 10 years since Chevron has been "in growth mode" in Canada, but that situation will likely reverse itself as the company prepares to build and run the first large liquefied natural gas facility, Kitimat LNG, on the country's West Coast while taking on the Duvernay shale gas play in Alberta.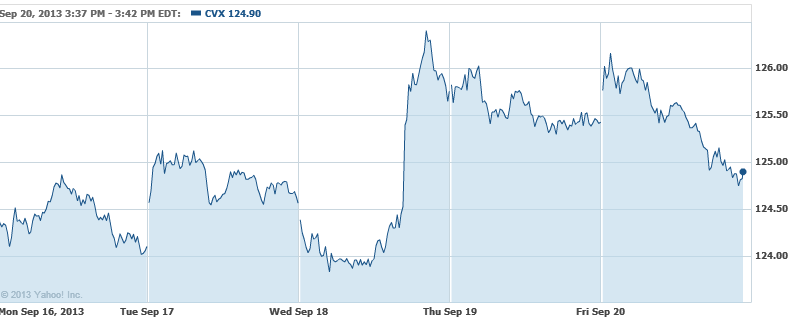 Zillow (NASDAQ:Z): Shares of Zillow are selling off at an 8 percent clip after a report by Citron Research declared the online and mobile real estate platform's second quarter a "complete disaster." The report, named "the most comprehensive and thoughtful piece on Zillow ever published," argued that its rapid top-line growth is only due to skyrocketing sales and marketing spend, which is now 70 percent of revenue. Citron also notes that Zillow only has an estimated 13.5 percent share of real estate site Web traffic (though no site has a dominant share), highlights recent insider selling, and declares social media usage by realtors is "killing" the company.

21st Century Fox (NASDAQ:FOXA): Fox Chief Operating Officer James Murdoch predicts there will be more mergers in the pay-TV industry. He sees consolidation in both upstream and downstream operations as companies align strategically to allow for growth around the world; Latin America and India are two of Fox's biggest prospects, according to Murdoch.

Smithfield Foods Inc. (NYSE:SFD): Starboard Value conceded that it could not find a better offer than Shuanghui's $34 per share proposal after making moves to block the deal and find a bidder willing to pay a better price. Starboard holds a 5.7 percent stake in Smithfield; a shareholder vote on the purchase is scheduled for next week.

Philip Morris International Inc. (NYSE:PM): Dividend Channel says that Philip Morris's dividend payout was well-timed, as a chart of the company's dividend hike "shows a nice little staircase extending higher and higher with regular September actions."

Don't Miss: Debt Auction Breakdown Shakes Up Market at a Sensitive Time.