Chevron Falls Short, Amazon's Canada Push, and 3 More Hot Stocks
Chevron Corp. (NYSE:CVX): Chevron shares are slipping as the company reports third-quarter results, which saw earnings fall nearly 6 percent year over year and come short of expectations, largely due to the impact of lower refining margins. Chevron reported earnings per share of $2.57, missing by 14 cents, as revenue of $58.5 billion also fell short of expectations, by $0.83 billion. Downstream operations profit dropped 45 percent to $380 million, also due to lower margins; Chevron produced 2.59 million barrels of oil equivalent per day in the quarter, up from 2.52 million barrels per day a year earlier, though the company had been targeting 2.65 million for the year.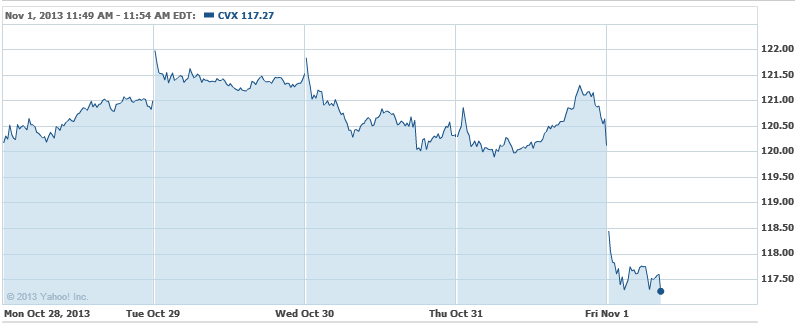 Amazon.com Inc. (NASDAQ:AMZN): Amazon is preparing to further enter the retail "bloodbath" that is Canada, The Globe and Mail is reporting. It's an aggressive push, too, with 14 new products to be released in the nation; on Thursday, Amazon launched an online auto store and a grocery site. "It's going to be ugly, particularly in the desperately over-stored Ontario market," Luke Sklar, founder of retail and marketing consultancy Sklar Wilton & Associates, said to the newspaper.


Exxon Mobil Corp. (NYSE:XOM): After its stock slogged for some time, Barron's notes that Exxon is now cheaper than some of its peers, and its dividend rich to boot, on top of topping estimates.  Exxon is "like a reasonably-priced high-quality bond," Don Yacktman said, adding: "You are never going to get dynamic growth out of this company. But ExxonMobil is going to grind it out and that's all right."

BHP Billiton Ltd. (NYSE:BHP): BHP has agreed to sell its coal mine in New Mexico to the Navajo Nation for roughly $85 million to help the company cut down to its core assets and push down costs. The mine — which sits on Navajo land — has supplied fuel to the Four Corners Power Plant for the past 50 years, helping the Navajo community pocket some $40 million in revenue in 2011. The power plant supplies power to New Mexico, Arizona, California, and Texas.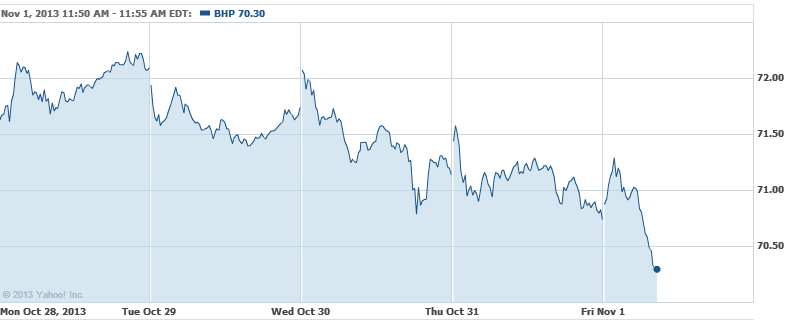 MasterCard Inc. (NYSE:MA): MasterCard shares are up as EPS of $7.27 beats estimates by 32 cents; revenue of $2.2 billion also beat, by $0.07 billion. Further, FBR Capital has raised its price target on the company to $820 from $690 after reviewing its third-quarter earnings report; Citigroup has followed suit, with a price target of $835.

Don't Miss: Exxon Mobil Is Feeling the Pressure of High Drilling Costs.