Chevron Gets Okay For Shale-Gas License In Poland and 2 Other Dow Movers to Watch
Chevron Corporation (NYSE:CVX): Current price $118.25
Chevron now has all the necessary approvals to commence work on a shale-gas license in Poland, subsequent to protesters who oppose to land being fenced off occupying the site. Spokeswoman Grazyna Bukowska commented in an email that "Chevron respects the right of individuals to express their opinions within the law. Our exploration program is progressing." Occupy Chevron (Poland) demanded that Chevron abandon its plans and leave the land, remarking on its website that the company had not gotten approval to set up fences on the site in the village of Zurawlow. The U.S. oil giant says that Poland is crucial for regional operations, even though Talisman Energy exited in May, and Marathon Oil Corp. reported that it is looking for ways to dispose of its 11 Polish licenses.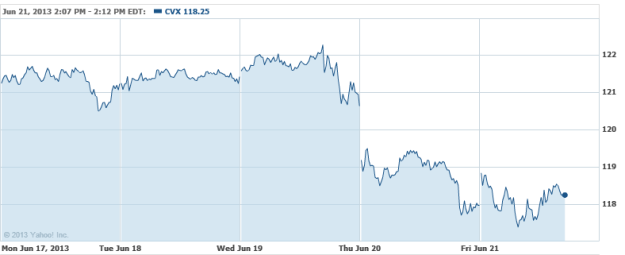 Bank of America Corporation (NYSE:BAC): Current price $12.66
The Motley Fool is reporting on Friday that the journalist who found and first reported the robo-signing of foreclosure documents, has now revealed yet another faux pas committed by the megabank. This time, it seems that BofA, together with other mortgage servicers have been supplying incorrect information to bond trustees in regards to the status of previously foreclosed homes. It is unknown right now if Bank of America will face a monetary penalty.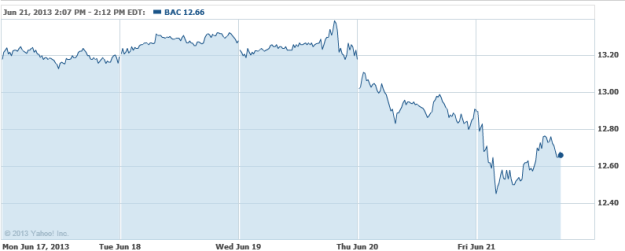 Caterpillar (NYSE:CAT): Current price $82.52
Caterpillar's sales growth has fallen for the sixth consecutive time, as global sales declined by 7 percent for the three months ending in May. More specifically, even though sales declined, it marked an improvement from the 9-percent drop noted in the three months ending in April, with all the regions posting modest declines compared with the previous month. So far this year, Caterpillar's sales have slid by 4, 13, 11, and 9 percent for three months ending January, February, March and April, respectively.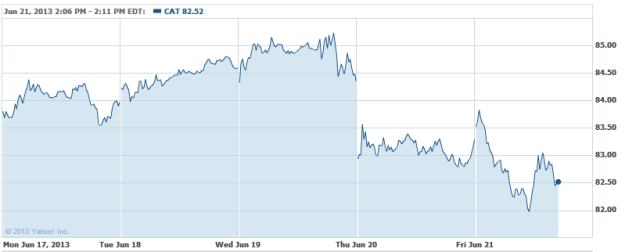 Don't Miss: BP: Something Fishy in Gulf Oil Spill Payouts.