Chevron Regains Argentine Assets and 2 Other Dow Movers to Watch
Chevron Corporation (NYSE:CVX): Current price $121.94
The Supreme Court of Argentina has revoked the seizure of Chevron's assets in that country, six months after an embargo was put in place that could have ruined plans to develop shale deposits with the state-run YPF. The embargo was turned aside in a unanimous five-page ruling signed by seven judges, reversing a November ruling by Judge Adrian Elcuj Miranda which ordered 40 percent of Chevron's Argentine bank accounts to be held in escrow at the request of Ecuadorean plaintiffs, so as to enforce a $19-billion award against the oil company, said a ruling posted on the Supreme Court's website. Chevron spokesman James Craig said that "Today's decision from Argentina's Supreme Court confirms that the Ecuadorian embargo should not have been issued in the first place. This is a significant development further demonstrating the illegitimacy of the Lago Agrio Plaintiffs' attempt to enforce their fraudulent judgment."'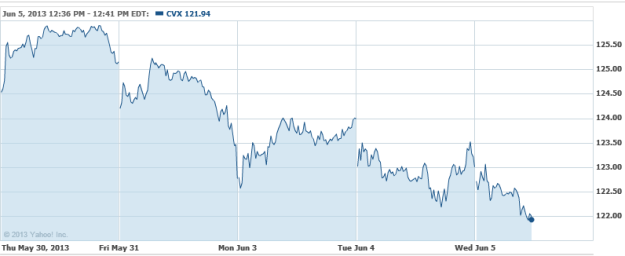 Wal-Mart Stores (NYSE:WMT): Current price $75.32
The retailing behemoth will participate in the 33rd Annual William Blair Growth Stock Conference on June 12th. Wal-Mart United States Chief Merchandising Officer Duncan Mac Naughton wile present an update on the company's domestic business starting at 5:40 p.m. Eastern Time.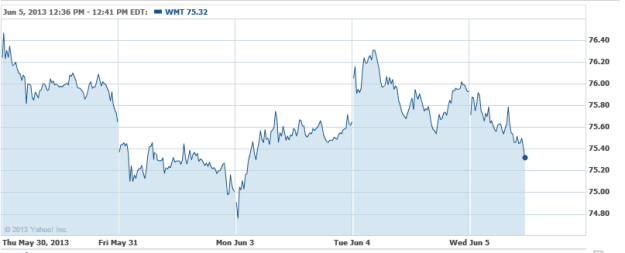 Proctor & Gamble Co. (NYSE:PG): Current price $76.85
Chief Financial Officer Jon Moeller will be a featured speaker at the Deutsche Bank Global Consumer & Food Retail Conference in Paris on June 12 at 10:30 a.m. Central European Summer Time. Media and investors will be able to access the live audio webcast beginning at that time.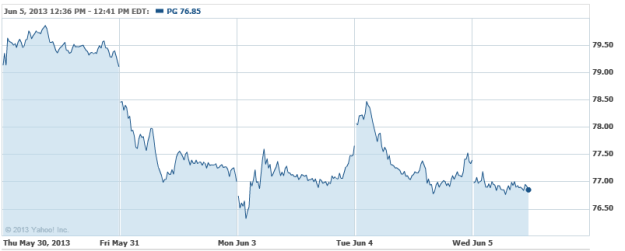 Don't Miss: Where is BP Going to Spend $1 Billion on Drilling?