Chevron Sends Delo Truck Into Canada and 2 Other Dow Movers To Watch
Chevron Corporation (NYSE:CVX): Current price $123.40
Chevron Canada Limited announced that its Delo Truck is heading for Canada the first time in 2013. The Truck will stage 11 appearances in support of Chevron lubricant marketers and their customers' locations, in Ontario, Quebec, New Brunswick and Newfoundland during a three-week period starting May 6. The Truck, which is an ambassador-on-wheels for the Delo brand, was introduced in August of 2011. Whilst in exhibit mode, the Delo Truck measures 6.8 meters wide and has learning stations created to educate customers and the general public on key market issues, Delo tech, and the importance of premium performance heavy-duty engine oils, lubricants and coolants.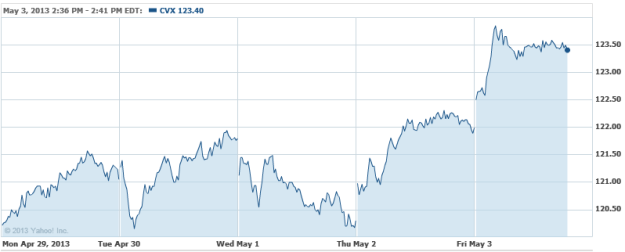 Alcoa (NYSE:AA): Current price $8.64
The company is once again advising that it may have to make serious smelting capacity and output cutbacks, but now it is giving more specifics. Alcoa already said that it will review 460,000 metric tons of smelting capacity in the next 15 months for potential curtailment, to maintain its competitiveness (cut supply) as aluminum prices have slumped by more than 33 percent from their peak level in 2011. Beyond that, the company has already idled 13 percent, or 568,000 metric tons of smelting capacity and the possible curtailments comprise over 11 percent of its world smelting capacity. While reviewing over the next 15 months, Alcoa will take into consideration the factories that have long-term risk, like high energy costs or regulatory uncertainty.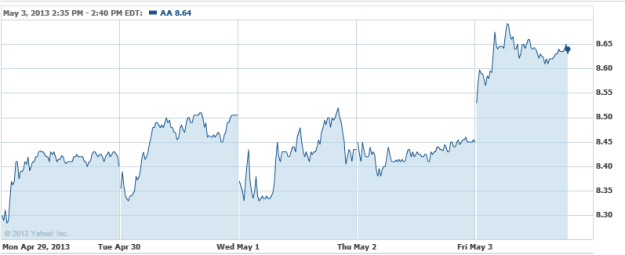 E.I. DuPont de Nemours and Co. (NYSE:DD): Current price $54.13
The Symposium on Biotechnology for Fuels and Chemicals has awarded DuPont with its 2013 Bioeconomy Leadership Award. This is the first year of this award, which is aimed at honoring an organization for demonstrated and sustained leadership excellence in forwarding the development of the biobased economy. DuPont was recognized for its pioneering work in the two strategic areas: of renewably-sourced materials, and fuels. The award will be bestowed at the annual SBFC conference, which unites industrial, academic and government experts to examine the most recent progress and breakthroughs in the research, development and deployment of biobased fuels and materials.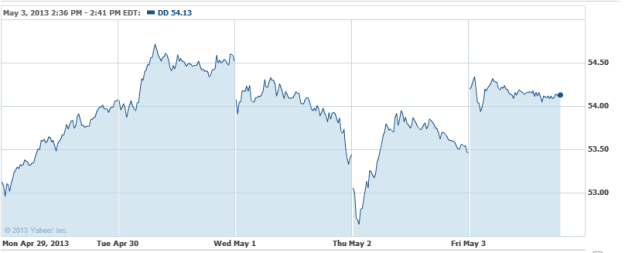 Don't Miss: Are Falling Factory Orders a Bad Economic Omen?