Chevron Strikes Oil in Mexico and 4 Stocks At 52-Week Highs
Chevron Corporation (NYSE:CVX): Closing price $120.18
The deepwater oil exploration and production firm in the Gulf of MexicoVenari Resources reported a major find at its Coronado prospect. The Coronado discovery, which spud on June 1, 2012, met in excess of 400 feet of net oil pay, and was drilled to a total depth of 31,866 feet in 6,127 feet of water, is around six miles from Venari's Shenandoah discovery, which was previously announced on March 19. Venari holds a 10 percent working interest in Coronado. Venari and its co-owners, including Chevron Corporation, as operator with a 40 percent share, ConocoPhillips (NYSE:COP) with a 35 percent share and Anadarko Petroleum Corporation (NYSE:APC) with a 15 percent interest, are evaluating the well results to calculate the full measure of the recoverable resource. Shares closed down 0.83 percent on Monday at $120.18, and have been traded in a 52-week range of $95.73 to $121.40.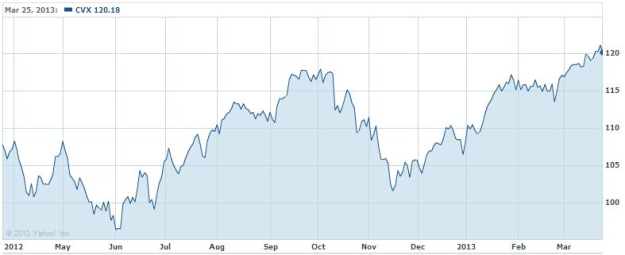 FMC Technologies (NYSE:FTI): Closing price $52.57
LiqTech International has formed an agreement with FMC Technologies, for the use of its state-of-the-art disruptive silicon carbide membrane tech for oil/gas applications. The exclusive arrangement will bring LiqTech International's silicon carbide membrane tech into the highly attractive unconventional shale oil/gas sector and will permit the development of new water treatment systems. The agreement includes a multi-year, multi-million dollar commitment towards LiqTech technology so that FMC Technologies can maintain exclusivity. Shares closed up 0.34 percent on the day at $52.57, and have been traded in a 52-week range of $36.89 to $53.18.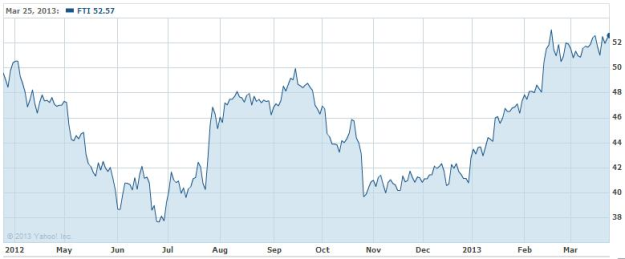 Hasbro (NYSE:HAS): Closing price $43.84
Iron Mountain (NYSE:IRM) said that Alfred J. Verrecchia is now chairman of its board effective March 15th. Verrecchia joined the board in March 2010, was appointed lead independent director in June 2012, and has been chairman-elect since late 2012, when the firm announced the retirement of longtime Chief Executive and Chairman Richard Reese and welcomed new Chief Executive William Meaney. Verrecchia also serves as chairman of the board at Hasbro. Shares closed down 1.39 percent on Monday at $43.67, and have been traded in a 52-week range of $32.00 to $43.92.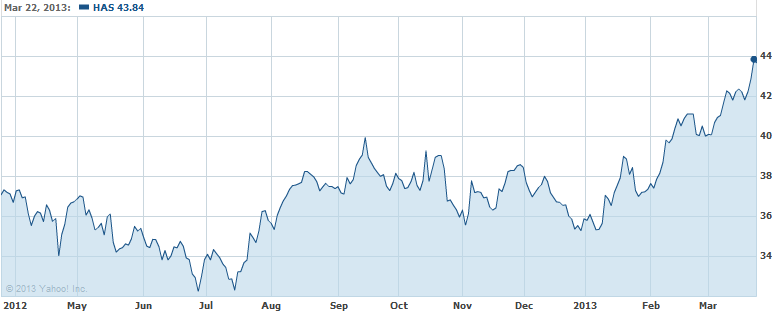 Harvard Bioscience (NASDAQ:HBIO): Closing price $5.85
Harvard Bioscience has received a private letter ruling from the Internal Revenue Service that subject to certain conditions, the anticipated spin-off of Harvard Apparatus Regenerative Technology will be tax-free for United States federal income tax purposes. Harvard Apparatus Regenerative Technology, or HART, which is  a wholly-owned subsidiary of Harvard Bioscience, has filed a registration statement with the Securities and Exchange Commission for an initial public offering of its common stock, and has  set a price range of between $10 and $12 per share of common stock and has begun its "road show." It is anticipated that the offering of common stock will price in early April, closing shortly thereafter. Shares closed up 1.92 percent on the day at $5.85, having been traded in a 52-week range of $3.45 to $5.95.

Headwaters Incorporated (NYSE:HW): Closing price $11.04
Headwaters estimates its fiscal year 2013 adjusted earnings before interest, taxes, depreciation and amortization at between $110 million and $125 million. Shares closed down 0.63 percent on the day at $10.97, and have been traded in a 52-week range of $3.50 to $11.20.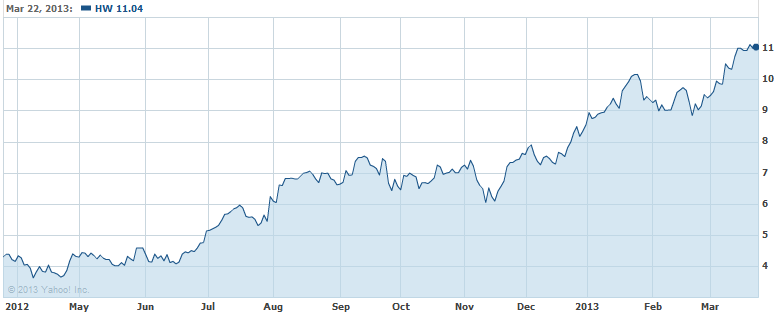 Don't Miss: The Fed: We Have to Keep Printing Because of Congress.