Chevron's Slick Legal Trick, Cisco Stresses Partnerships, and 3 More Hot Stocks
Chevron Corp. (NYSE:CVX): Chevron is exploring the possibility of a "surprising and savvy" legal maneuver in its RICO suit against Steve Donziger, the environmental lawyer behind the $19 billion judgment that was issued by an Ecuadorian court in 2011. Chevron may drop damage claims against him, potentially worth $100 million, Seeking Alpha reports. This action would effectively convert the case into a bench trial before a judge, rather than a jury. This would give Donziger no opportunity to play to the jurors.
Cisco Systems (NASDAQ:CSCO): Cisco's purchase of Whiptail gives the company its first taste of data storage, and its new purchase is apparently putting pressure on other storage partnerships like the company's relationship with EMC. Whiptail's products also compete with IBM's (NYSE:IBM) Texas Memory unit and NetApp's (NASDAQ:NTAP) flash products. Whiptail relies on a proprietary operating system built from scratch to handle flash storage, something that it believes yields superior performance.

Chesapeake Energy Corp. (NYSE:CHK): Chesapeake has initiated another round of layoffs, as several vice presidents were told Wednesday that their positions had been folded completely. The exact number cut from the company has not yet been disclosed. A statement from the company says it is "transitioning key leadership positions and making adjustments to its organization to properly align resources, reduce expenses, and improve its operating and competitive performance."

Coldwater Creek (NASDAQ:CWTR): Second quarter earnings per share of -72 cents, missing by 9 cents, and revenue of $149.7 million (also missing, by $13.11 million) have pushed shares down more than 23 percent. Retail comp growth was -7.3 percent for the period and consolidated net sales (premium retail and direct) fell 8.5 percent year over year. "Sales were lower than planned in the second quarter, largely due to a deceleration in traffic during the month of July," CEO Jill Dean said in a statement, adding that the company's "return to more consistent comparable store sales has been slower than expected."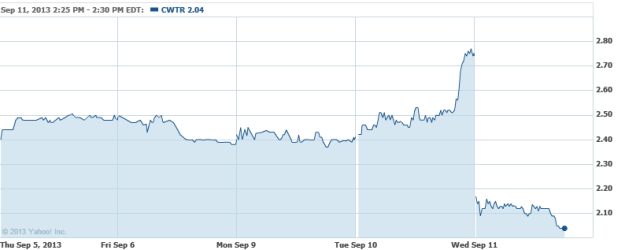 Novavax Inc. (NASDAQ:NVAX): Novavax's vaccine for respiratory syncytial virus (RSV), which causes infections of the lungs and breathing passages, reportedly performed well during Phase I trials. The RSV vaccine was compatible when administered with a flu vaccine, was well tolerated, and it helped increase antibodies with potentially protective effects. It was given to 220 healthy adults, all of whom were 60 or older.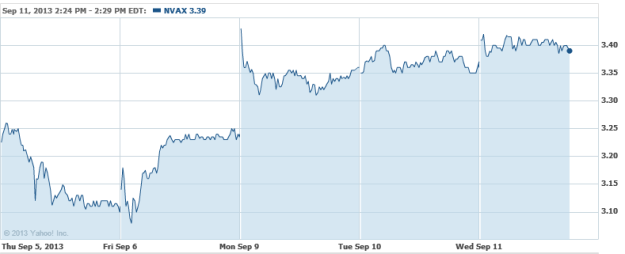 Don't Miss: Oil Spill Drama Not Enough? BP Also Faces Toxicity Claims.