China Doesn't Find Yum Brands So Yummy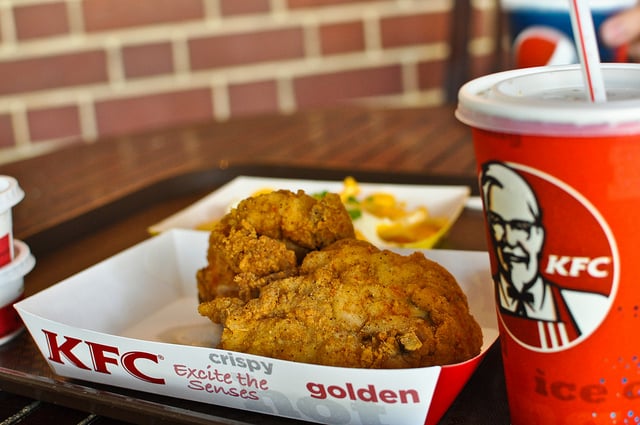 Analysts are expecting weakened sales in China to hurt Yum Brands's (NYSE:YUM) bottom line when the company reports earnings for its fiscal third quarter on Tuesday.
Yum, which owns Kentucky Fried Chicken and Pizza Hut, among other fast food chains, has been investing heavily in China in the past five years. The company's growth of new restaurants in China has been 17 percent, compared with zero percent in the U.S. in the same period, according to a Wall Street Journal report. The high growth the company saw in China is helping keep it ahead of rival McDonald's (NYSE:MCD), so if Yum loses its edge in China, it could also lose its edge over McDonald's.
In 2012, Yum's China strategy started to weaken. A slumping economy gave Chinese citizens less money for eating out, an avian flu scare turned consumers away from KFC, and a probe into one of Yum's poultry suppliers didn't help improve its image among Chinese consumers.
In August, Yum started airing television commercials in China to ensure consumers there that its food is safe, as well as to advertise chicken alternatives available at Yum's different restaurants. Those commercials apparently haven't done much to restore faith in the company, as analysts cited by the Journal are expecting Yum to post earnings of 92 cents per share for the quarter that ended in September, down from $1 a year ago.
The company faces more risk with its restaurants in China, where they are company-owned, versus the franchised restaurants it owns in the U.S., so Yum has been hit particularly hard by its slowdown in the Asian country. Same-store sales in China were down 10 percent in August, 13 percent in July, and 10 percent in June. Analysts are expecting further declines for September and the quarter.
For the first half of 2013, Yum's operating profit from China was $222 million, down by half from a year before. Yum showed a small 4 percent growth in the U.S. for the first half of the year, posting an operating profit of $338 million.
Analysts will be watching Yum's earnings to look for evidence about the state of the Chinese economy and to see if the company has finally bounced back from the avian flu scare. For now, it doesn't look as if Yum will reach its goal of returning to same-store sales growth in the quarter.
Follow Jacqueline on Twitter @Jacqui_WSCS
Don't Miss: Pepsi: Still Not Liking the Taste of the Peltz Plan.