China is Coming After Microsoft and 2 Dow Movers To Watch
Microsoft Corporation (NASDAQ:MSFT): Current Price $29.24
Microsoft's after-sales service of its Surface tablet has brought criticism from China's government-owned radio, after similar reports in the past month targeting Apple (NASDAQ:AAPL), said Bloomberg. China National Radio reported that the Surface Pro should follow the law mandating notebook computers to have a one-year repair warranty for the entire device and a two-year warranty for main parts, rather than the firm's one-year pledge for both.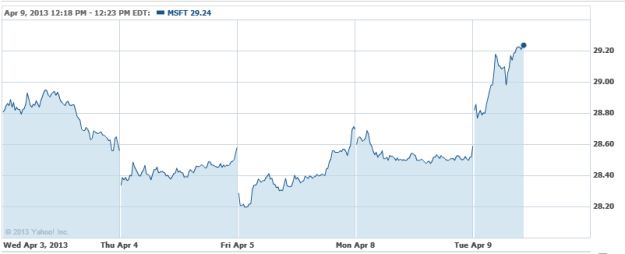 The Walt Disney Company (NYSE:DIS): Current Price $58.71
Disney is poised to lay off around 150 employees at its movie studio subsequent to a corporate cost review, according to Dow Jones Newswires. Expected to happen this week, the layoffs will affect the majority of divisions at the Walt Disney Studios including home video, theatrical distribution, and marketing, but not the creative production group. Disney's movie operation employs around 7,000 people, including firms with which it works closely, like Marvel Studios, Lucasfilm and the music and theater divisions. The job eliminations, first reported by Variety, come in the face of recent strong performance by Disney, and the company's shares closed at a 52-week high of $58.82 on Monday.

Chevron Corporation (NYSE:CVX): Current Price $118.42
Chevron has the green light to restart output at the offshore Frade field in Brazil, which was the site of a November 2011 accident and oil spill, reported Brazil's National Petroleum Agency, according to Dow Jones Newswires. In a board meeting on Friday, ANP directors gave Chevron an okay to resume crude-oil production from four wells for a period of 12 months. Output from an additional two wells was also cleared, but only for two months, according to ANP, which said that the partial restart of oil production was conditioned upon undisclosed changes to Chevron's plan to decrease flaring.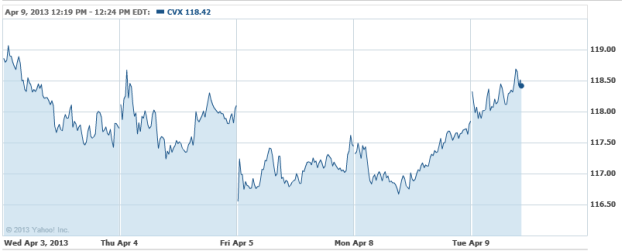 Don't Miss: Apple and Google Are Killing BlackBerry and Microsoft in App Sales.