China Just Reached this Huge Capitalist Milestone
What's the sign of a maturing capitalist country? A strong middle-class? Sure. A vibrant entrepreneurial culture. You bet.
But there's one indicator which tends to fly under the radar: the establishment of a Disney (NYSE:DIS) theme park. Yup. Until Mickey and Minnie build a house in your hood, you're still on the journey.
Welcome to the destination, China (NYSE:FXI)! Disney has officially announced your very own Disney theme park: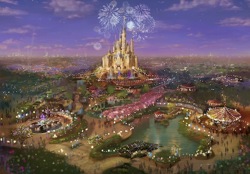 "With Shanghai Disney Resort, we have the chance to introduce the Disney Parks experience to an entirely new group of guests. Scheduled to open in about five years, our new resort in Shanghai will include things that you know and love about a Disney theme park such as Disney characters, attractions and storytelling… but it will also feature all-new experiences and stories that were inspired by and created for the people of China. The best way to describe this new resort is authentically Disney, yet distinctly Chinese."
Forget metrics for manufacturing, global trade, or GDP. China is finally legit now that Disney (NYSE:DIS) is able to monetize the imagination in person.