China's GDP Miss Sends Ripples Worldwide
China has ratcheted up its longest streak of economic expansion below the 8-percent level in 20 years, sending a clear message to investors and economists: slower growth in the world's second-largest economy is now the norm, not the exception.
Gross domestic product for the first quarter rose 7.7 percent from the year-ago quarter, marking the first time in two decades that the Chinese economy experienced four consecutive periods of growth less than 8 percent. Even worse, the growth figure released Monday by the National Bureau of Statistics in Beijing was significantly below the expectations of analysts — so far below, in fact, that it was the worst estimate miss since the third quarter of 2008, according to data compiled by Bloomberg.
Slower growth in China will send ripples throughout the global economy as many businesses count on China to drive profits. With depressed demand for products used in industrial manufacturing accompanying this lower growth, the fortunes of a wide range of companies in varying industries will be hurt, including mining outfits in Australia — like BHP Billiton (NYSE:BHP) — and General Motors (NYSE:GM). It will even complicate the challenges for global policymakers working to rectify Europe's debt crisis and implement Japan's record monetary easing. Under the shadow of this news, global finance chiefs from the group of the 20 most prosperous nations will meet this week in Washington with both these problems scheduled for discussion…
"While this is a shock in the short term, it is part of the growing-up of China's economy," Royal Bank of Scotland chief China economist Louis Kuijs told the publication. Following the announcement from China's National Bureau of Statistics, he cut his forecast for 2013 expansion from 8.4 percent to 7.8 percent…
Stocks plummeted after the gross domestic product figure was released. The benchmark Shanghai Composite Index recorded its biggest drop this month on Monday, and it headed for its fourth straight decline Tuesday while the MSCI Asia Pacific Index fell for a second day.
There was more bad news for the Chinese economy on Tuesday as well. Moody's Investors Service lowered its outlook for China's credit rating to stable from positive, citing the government's slower-than-anticipated progress in reducing risks from local-government debt and credit expansion that may hurt growth.
Despite the concerns evident in economists' lowered growth forecasts and the stock market dips, the Chinese government did not show alarm over Monday's economic data. As Bloomberg reported, officials said that the economy was "stable" in the first quarter. Sheng Laiyun, a statistics bureau spokesman, noted at a briefing in Beijing that the expansion rate is not only higher than many other nations, but the country's new leadership is also putting more emphasis on the quality of growth. He added that urbanization will continue to create demand.
China's new leaders set a 7.5 percent growth target for 2013 last month, and on March 17, Premier Li Keqiang said that the country must maintain that growth rate through 2020 as the country wants to double per capita income this decade, according to Bloomberg. While Sheng said he was optimistic that China can hit this target, he did acknowledge that China's dropping growth rate is part of an "inevitable trend." But, as the publication noted, China does not need to expend at a rate greater than 8 percent because the number of new workers between the ages of 15 and 24 — which are the primary job hunters — has been in decline since 2010.
Here's how the market traded Tuesday: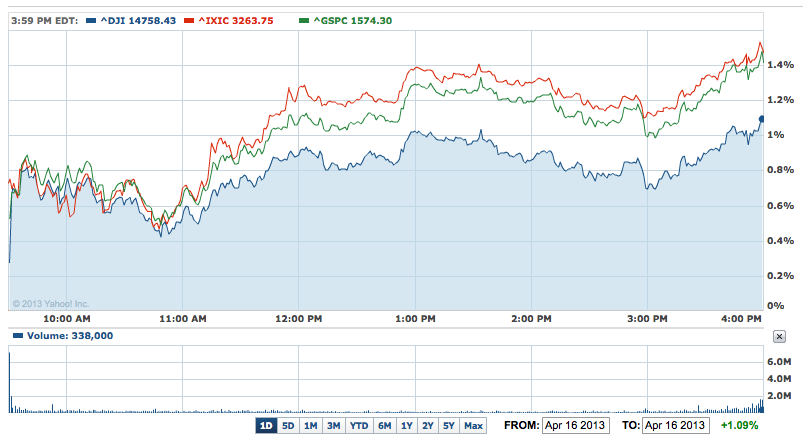 Don't Miss: Will Deflation Keep the Fed Printing?