China's Manufacturing: Down But Not Out
International economic data flooding the financial news airwaves on Friday was generally pessimistic; yet for some countries the news was worse than for others.
In the European Union, the survey of purchasing managers in both the services and manufacturing industries declined more than analysts had expected — giving another sign that the economy of the 17-nation currency bloc will continue to contract in the first quarter of 2013. Also under pressure, China's manufacturing output shrank on a month-over-month basis, although the gauge remained barely in growth territory.
The official Chinese manufacturing index fell for the second consecutive month in February, reported Bloomberg, revealing the challenges to economic growth the country faces as it prepares for a change in leadership.
China's new government — headed by President Xi Jinping — will take power after the annual session of parliament begins on March 5. Then, the National People's Congress will set this year's growth target. With this recent drop, that metric will draw particular focus from the country's leaders, who may, economists fear, implement more governmental controls.
"We are still waiting for the congress," First Shanghai Securities strategist Linus Yip told Bloomberg. "The major concern is whether there will be more controls coming out."
China's Purchasing Managers' Index gave a reading of 50.1 for the month of February, according to the country's National Bureau of Statistics. That level indicated that the index expanded by the tiniest margin; any reading of below 50 means that the gauge contracted for the measured period. Economists had hoped for slightly better results, with their consensus estimate set at 50.5 for the month, but even that figure would not have signaled an overwhelming boost to the economy.
A separate reading of manufacturing data compiled by HSBC gave a reading of 50.4 — the lowest level recorded by the firm in four months. This reading, down from 52.3 in January, evidenced a marginal improvement in operating conditions in China, with a slight expansion in output and an increase in total new orders…
The final February manufacturing PMI suggests "a slower pace of expansion," stated Chief Chinese Economist Hongbin Qu in the press release. "But China's recovery continues on improving domestic demand conditions and the labour market. The pace of ongoing recovery is mild, implying no need for the PBoC [The People's Bank of China] to tighten policy any time soon," he added, referencing other analysts concerns over the possibility of a change in monetary policy.
The unexpected decline in the rate of expansion in manufacturing, pushed down Hong Kong Stocks and gave the city's benchmark index its first decline in the past three days. The index has retreated 3.6 percent since the beginning of January when it hit a 20-month high.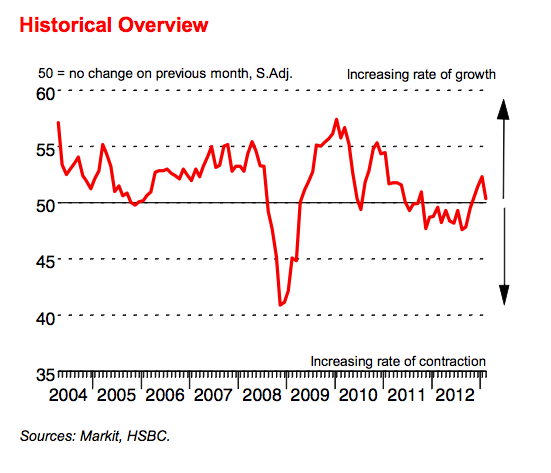 Don't Miss: Unemployment Claims Reflect Sluggish Recovery.