Chinese Economy Blasts Arch Coal and 2 More Stocks at 52-Week Lows
Arch Coal (NYSE:ACI): Closing price $4.88
Worries about a slump in growth in China sent shares of coal companies down Monday, because the condition could soften world demand for certain types of coal. Analyst Brian Yu at Citigroup reduced his 2014 forecasts for hard coking coal employed in steel production by 11 percent to $190 per ton, adding that the commodity's six-month outlook also looks somewhat worse with third-quarter 2013 contracts pegged at $165 per ton, which is higher than current spot prices, but under the second-quarter levels. Shares closed down 9.46 percent on Monday at $4.88, and have been traded in a 52-week range of 4.85 to $10.43.

Freeport-McMoRan Copper & Gold (NYSE:FCX): Closing price $29.27
Fears of an economic stall-out in China drove a steep drop in commodity prices on Monday, scaring investors and giving the stock market its worst day of the year thus far. The catalyst for the sell-off came from China, where the economy expanded by 7.7 percent in the first three months of 2013, which was well below forecasts of 8 percent or higher. That news sharply impacted copper, oil, and other commodities; shares of oil and mining companies came out the worst, as China is a big importer of their products. FCX shares closed down 8.30 percent on the day at $29.27, having been traded between $29.03 and 43.65 the past 52 weeks.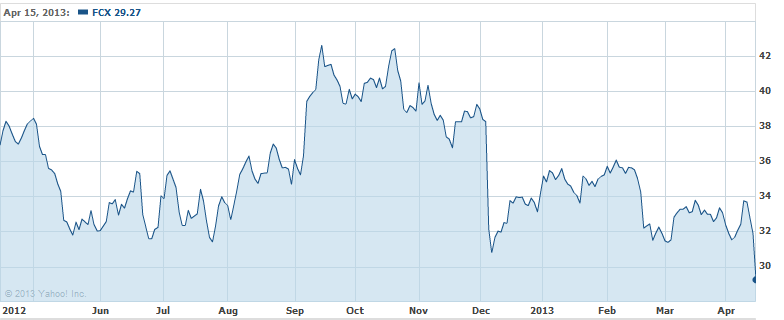 Forest Oil Corporation (NYSE:FST): Closing price $4.37
Forest has reached a definitive deal with Schlumberger Limited (NYSE:SLB) to develop Forest Oil's Eagle Ford Shale land in Gonzales County, TX. The accord stipulates that for Schlumberger to buy a 50 percent stake in the Eagle Ford Shale acreage position, it would have to pay $90 million drilling carry in the form of future drilling and completion services and related development capital. Subsequent to the completion of the phased contribution of the drilling carry, Forest Oil and Schlumberger would participate in future drilling on a half-and-half basis. Shares closed down 10.08 percent on Monday at $4.37, and have been traded in a 52-week range of $4.34 to $13.69.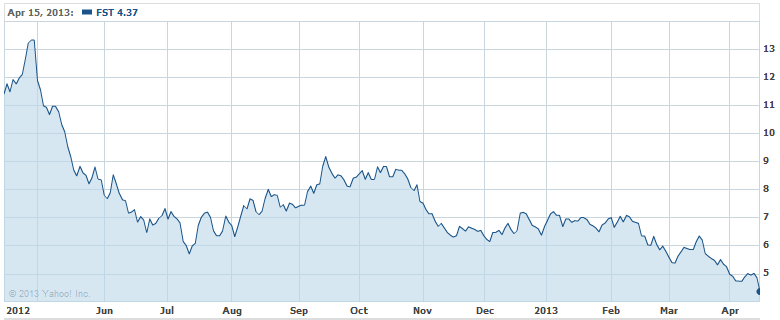 Don't Miss: Will Workforce Reductions Help Greece Recover?