Christmas Is Coming Extra Early for Starbucks This Year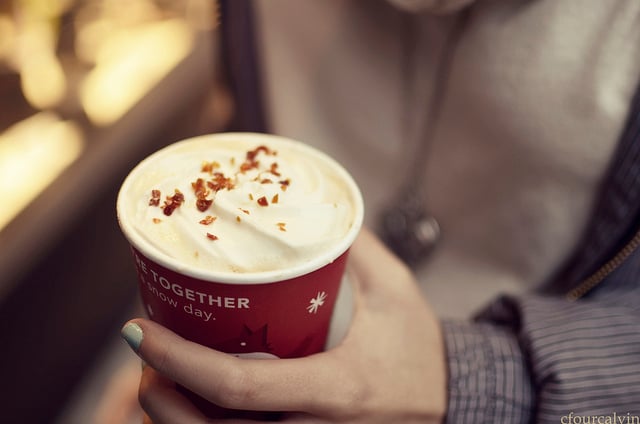 Nothing says "Merry Christmas" or "Happy holidays" like a fresh cup of Starbucks (NASDAQ:SBUX) coffee, right? That's what Americans seem to think, at least. The coffee giant announced this week that one in every 10 American adults received a Starbucks Card last holiday season, and now the company is gearing up for its busiest card activation day of the year: Thursday, December 19.
Sure, the Thursday before Christmas doesn't have a fancy title, but Starbucks still celebrates it. According to StreetInsider.com, it's the busiest day of the year for Starbucks Card sales. Last year, more than 2 million Starbucks Cards were purchased in the United States and Canada on the Thursday before Christmas, representing nearly 1,500 cards purchased per minute in the two countries.
Twelve months later, the company is expecting no less. Increased drink offerings, sustained Starbucks popularity, and a National Retail Federation forecast that predicts eight in 10 shoppers will purchase a gift card this holiday season seem like a recipe for success for Starbucks executives, and no one recognizes it more than them.
Adam Brotman, chief digital officer of Starbucks, said in a press release: "[W]e're on track for another record performance in Starbucks Card sales, as we celebrate our 13th year of offering Starbucks Cards. We are predicting that this Thursday and next Monday, Dec. 23, will be our busiest days for Cards sales."
Starbucks has been marketing its payment cards since 2001, registering a total of $16 billion loaded onto 450 million cards in 27 countries worldwide. Sales of the cards have especially gone up recently — a quarter of the total $16 billion has been loaded onto the gift cards just in the past year.
The Thursday before Christmas may seem like an unusual time for Starbucks Card purchases to suddenly spike, but it seems that the coffee giant's gift offer appeals to last-minute shoppers. The good thing about Starbucks is that the chain can appeal to almost anyone, even those who don't necessarily like coffee.
So Starbucks is prepping its store partners, e-commerce teams, and social gifting channels for strong activity in the upcoming days. If the NRF is right in its assessment that many shoppers really are going the gift card route this holiday season, more consumers could be drinking Starbucks in the new year than ever before.
Of course, Starbucks Card sales on Thursday could still flatline, considering this is only the second year the company is expecting major sales that day. But for now, the coffee giant has high hopes.
Don't Miss: 31 Best Recipes and Tips of Cookie Week 2013.