Chrysler Files For IPO, Citi Cuts Mortgage Jobs: Morning Buzzers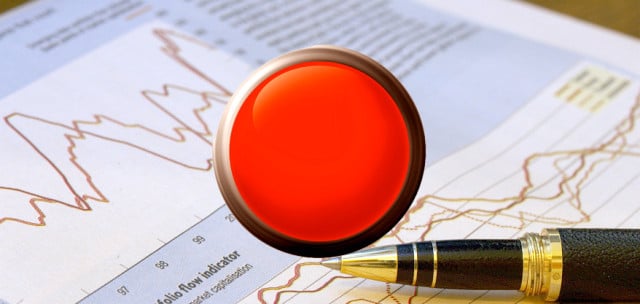 U.S. stock futures remained steady Tuesday morning as investors waited for data on consumer confidence and continued to hang on the every word of Federal Reserve officials. The market declined for three straight days after reaching record highs last week, when the Fed made the surprise announcement that it would not start tapering bond purchases. Investors and economists are confused as to what direction the Fed will now take, and that confusion has shown in the market.
Futures at 8:30 a.m.: DJIA: +0.01%, S&P 500: -0.06%, NASDAQ: +0.11%.
Here's your cheat sheet to what's buzzing this morning.
BlackBerry (NASDAQ:BBRY) is being taken private by Fairfax Financial Holdings, the company's biggest shareholder, for $4.7 billion. According to Bloomberg, that figure is the cheapest-ever valuation for a North American technology or telecommunications takeover. During its prime, BlackBerry was valued at $83 billion. Fairfax CEO Prem Watsa stepped down from BlackBerry's board after the company announced it was seeking offers last month, fueling rumors that Fairfax was in the running to purchase the struggling smartphone maker.
Chrysler Group LLC has filed for a $100 million IPO despite a persisting valuation feud between Chrysler's majority shareholder, Fiat (FIATY.PK), and the United Auto Workers union, which is the second largest shareholder. On Tuesday, Fiat told The Wall Street Journal that the regulatory filing doesn't mean the sale will necessarily take place. In the filing, which was seen by the Journal, Fiat said that if it couldn't gain control over the company, it would turn its back on Chrysler. Fiat will likely be increasing its efforts to reach a deal with the UAW.
Citigroup (NYSE:C) is cutting 1,000 mortgage jobs because its mortgage origination business has slowed down, Reuters reported Monday night. The jobs Citi is cutting are focused in the Las Vegas, Nevada, and Irving, Texas, areas. High interest rates have greatly reduced demand for loans and refinancing. Citigroup will report a sharp drop in overall revenue due to a slump in the trading market when the company reports earnings, people familiar with the matter told the Financial Times. The mortgage job cuts are yet another sign that the bank is struggling.
Boeing's (NYSE:BA) bid to supply South Korea with its Boeing F-15 Silent Eagle fighter jets has been rejected even though it was the only bid the country received that was under budget. Bloomberg reports that the country believes Boeing's jets aren't advanced enough to contend with a significant threat from North Korea. South Korea is holding a new tender for the 60 fighter jet order.
Follow Jacqueline on Twitter @Jacqui_WSCS
Don't Miss: Would a Government Shutdown Even Stop Obamacare?