CIENA Corp Earnings Cheat Sheet: Shares Down Over 12%
CIENA Corporation (CIEN) reported its results for the most recent quarter. Ciena Corporation is a provider of communications networking equipment, software and services that support the transport, switching, aggregation and management of voice, video and data traffic.
Don't Miss: Wall St. Cheat Sheet's newest Feature Trades of the Month!
CIENA Corporation Earnings Cheat Sheet
Results: The company's loss narrowed to $62.7 million (66 cents/share) vs. a loss of $90 million or a loss of 97 cents per share in the year earlier quarter.
Revenue: Revenue rose 64.9% to $417 million
Actual vs. Wall St. Expectations: CIEN reported an adjusted net loss of of 24 cents/share. By that measure, the company fell short of the mean analyst estimate of a loss of 10 cents/share. Estimates ranged from a loss of 2 cents per share to a loss of 20 cents per share.
Quoting Management: "Momentum continues to be strong across our business, as evidenced by high levels of customer engagement, additional design wins around the world and strong order flows," said Gary Smith, president and CEO of Ciena.
Competitors to Watch: Tellabs, Inc. (NASDAQ:TLAB), Alcatel-Lucent (NYSE:ALU), Cisco Systems, Inc. (NASDAQ:CSCO), ADTRAN, Inc. (NASDAQ:ADTN), Sycamore Networks, Inc. (NASDAQ:SCMR), Telefonaktiebolaget LM Ericsson (NASDAQ:ERIC), Orckit Communications Ltd (NASDAQ:ORCT), Juniper Networks, Inc. (NYSE:JNPR), Infinera Corp. (NASDAQ:INFN), and JDS Uniphase Corporation (NASDAQ:JDSU).
Stock Performance: Shares of CIEN are down over 12% to $21.11 per share this morning.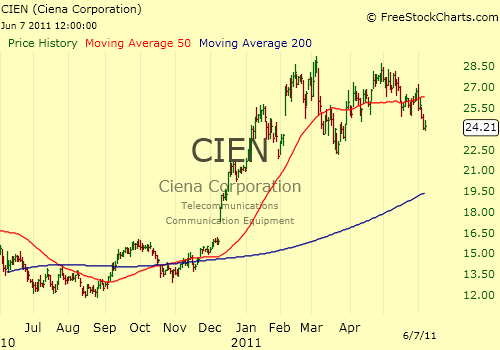 Don't Miss Wall St. Cheat Sheet's newest Feature Trades of the Month!
(Sources: YahooFinance, Xignite Financials)