Cirrus Logic Tumbles On Profit Margin Guidance and 2 Other Hot Stocks to Watch
Cirrus Logic (NASDAQ:CRUS): Current price $18.19
Cirrus shares are down more than 15 percent in midday trading, after the firm predicted that its profit margins would fall over the longer term, disclosing in slides at Barclays Global Technology Conference that it projects its gross margins to be in the mid 40s percentage level over the period. Prior to this, Cirrus had anticipated its gross margins to be between 50 and 57 percent over the long-term, said the research firm Oppenheimer, but the actual figure in its quarter ended in March stood at 49 percent. The company  explained that it expects growing pricing pressure in the smartphone market, along with reduced prices for its products.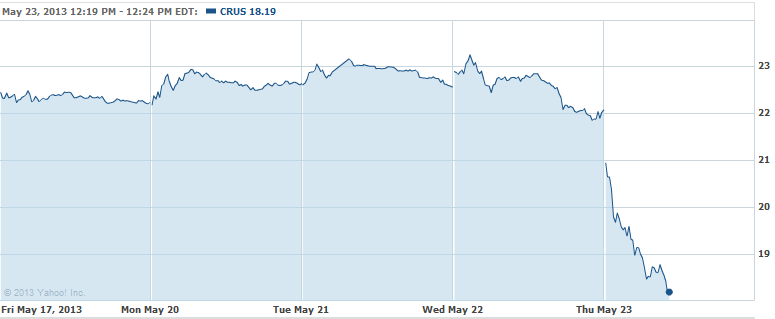 Green Mountain Coffee Roasters (NASDAQ:GMCR): Current price $74.00
President, U.S. Commercial, Michelle Stacy announced Thursday, "This summer, Donut House Collectionis giving Keurig brewer owners a new, refreshing way to enjoy their classic 'sinkers and suds,' – that's coffee and donuts in diner lingo. This sweetened, creamy iced coffee delivers a delightful pick-me-up, especially on hot days." Keurig brewer owners may now have a "classic, cool, delicious treat" in their own kitchens with Sweet & Creamy Regular Iced Coffee K-Cup packs from DonutHouse Collection. They are to be available in grocery stores throughout the United States.
Gilead Sciences (NASDAQ:GILD): Current price $55.82
Gilead recently reported that its marketing authorization application for HCV candidate sofosbuvir (formerly GS-7977), submitted to the European Medicines Agency  on Apr 17, has been validated and is presently under review. Gilead wants to have the candidate approved in combination with ribavirin as an all-oral therapy for treating patients affected with genotypes 2 and 3 of the disease. Additionally, the application includes data supporting the use of sofosbuvir in combination with RBV and pegylated interferon (peg-IFN) as a first-line therapy in patients suffering from the genotypes 1, 4, 5 and 6 of the virus.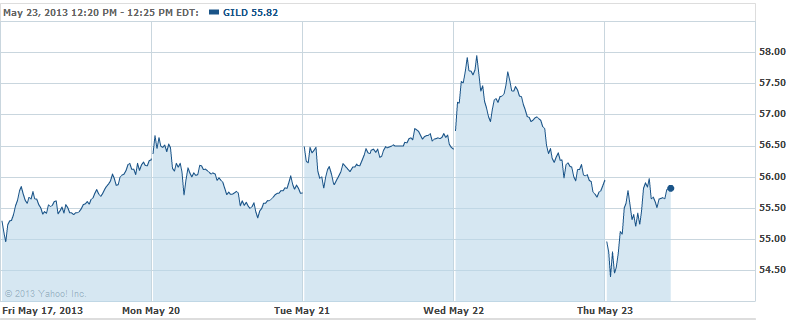 Don't Miss: Will News Corp Continue This Monster Surge?