Cisco Acquires Stake in Parallels and 3 Dow Movers Sparking Chatter
Boeing Company (NYSE:BA): Current price $75.09
Both Japanese and American regulators have now all but ruled out overcharged batteries being the cause of recent fires on the Boeing  787 Dreamliner, which has now been grounded for a week. The FAA said that there are thus far no firm answers as to the cause, and no clear date given yet for returning the planes to flight, according to Reuters.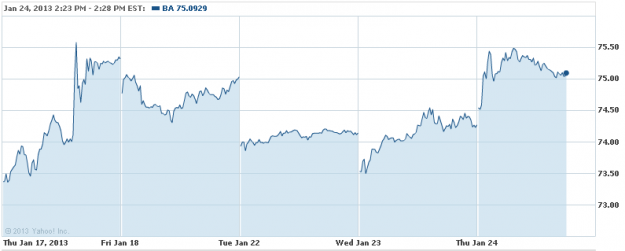 Cisco Systems (NASDAQ:CSCO): Current price $20.91
Cisco purchases an approximate 1-percent interest in the software developer Parallels, says Reuters. The latter says that it expects dividend payouts, an initial public offering, and M&A.

Are these stocks a buy or sell? Let us help you decide. Check out our Stock Picker Newsletter now.
General Electric Company (NYSE:GE): Current price $22.09
On Thursday, GE and Toshiba Corporation  signed a memorandum of understanding through which to create a worldwide  strategic alliance, under which the firms would jointly develop select combined-cycle power generation projects globally. In addition, under the MOU, the parties will explore the creation of a strategic joint venture for the development of next-generation combined-cycle power projects having higher levels of thermal efficiency. Last year, GE and Toshiba won a contract  to provide the new FlexEfficiency tech to Chubu Electric Power's Nishi Nagoya Thermal Power Plant in Japan. This system is being jointly configured to achieve the world's highest thermal efficiency of 62 percent.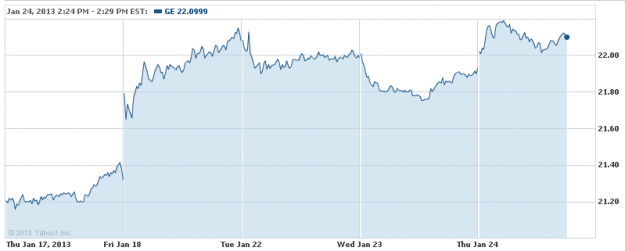 Hewlett-Packard Company (NYSE:HPQ): Current price $16.89
Hewlett-Packard reported that Spain's Madrilena Red de Gas has reached a four-year agreement for HP to manage its environment running SAP solutions (NYSE:SAP), thus enabling it to enhance customer service while concurrently improving efficiency. Through the terms, HP will help Madrilena Red de Gas more closely line its SAP solution-based environment up with business objectives, permitting it to support priorities, customer service improvement goals and growth as it  reduces complexity and costs.

Don't Miss: Can Amazon Bank On This New Technology?