Cisco Announces Expanded Solutions & Services and 2 Other Hot Stocks To Watch
Cisco Systems (NASDAQ:CSCO): Current price $20.48
On Tuesday, Cisco announced expanded solutions and services so as to assist utilities in improving their grid operations with greater levels of automation and security, amid changing regulatory requirements. The company's strong security expertise and history unites a security strategy that addresses both the physical and cyber security layers, connected with utility specific service offerings for the electric grid, based on its Connected Grid Security Architecture. Beyond that, Cisco extended its hardened network solutions for substations to permit utilities better visibility and management of the grid.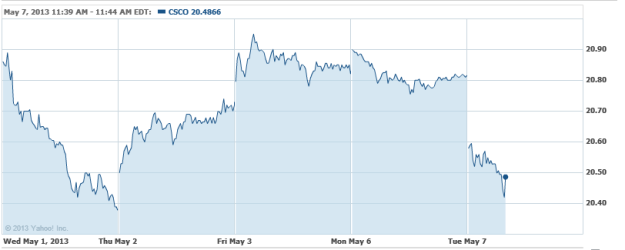 Pfizer (NYSE:PFE): Current price $28.95
TheStreet reports that the ex-dividend date for Pfizer is May 8. Owners of shares as of market close Tuesday will be eligible for a dividend of 24 cents per share. Calculated on a price of $28.85 as of 9:31 a.m. Easter Time, the dividend yield stands at 3.3 percent. During the past 30 days, the average volume for the shares has been 31.7 million per day; Pfizer has a market cap of $208.1 billion and forms part of the health care sector and drugs industry.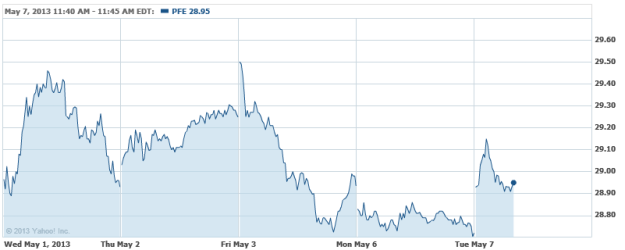 Yahoo! (NASDAQ:YHOO): Current price $26.04
Two of Yahoo's significant properties in Asia have reported strong year-over-year profit growth in 2012, emphasizing the value of the assets, according to a regulatory filing by Yahoo on Tuesday, which said that Yahoo holds a 24-percent interest in Alibaba Group, which saw its profit nearly triple to $642 million. At the same time, Yahoo Japan, in which Yahoo owns a 35-percent interest, reported a 13 percent profit gain last year. Alibaba's impressive performance was particularly important following speculation that the Internet major was poised go public, which would result in a profit windfall for Yahoo.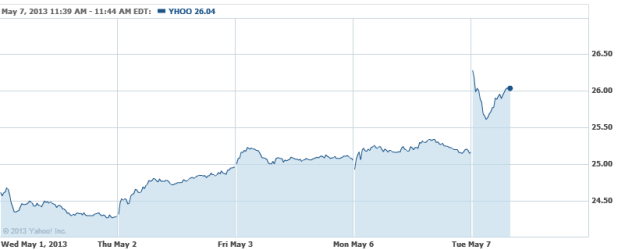 Don't Miss: Is Microsoft Turning Tail With Windows 8?