Cisco Announces Solutions for SANs and 2 Other Hot Stocks to Watch
Cisco Systems (NASDAQ: CSCO): Current price $20.36
On Wednesday, Cisco announced new solutions for storage area networks which deliver higher performance, scalability and reliability than do other competing systems. The new solutions include the Cisco MDS 9710 Multilayer Director, delivering three times the bandwidth of any storage director in the industry. Beyond that, Cisco announced the Cisco MDS 9250i Multiservice Fabric Switch, which enhances efficiency by performing important storage networking services in the SAN fabric.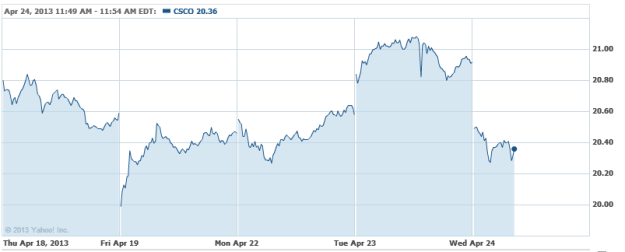 Ford Motor Company (NYSE:F): Current price $13.24
Ford Motor Credit Company has posted a pre-tax profit of $507 million in the first quarter, compared with $452 million year-over-year from 2012. The increase in pre-tax earnings is primarily credited to higher receivables and favorable residual performance, partly outweighed by lower credit loss reserve reductions. Ford Credit's net income came to $364 million in the first quarter, versus $295 million in 2012.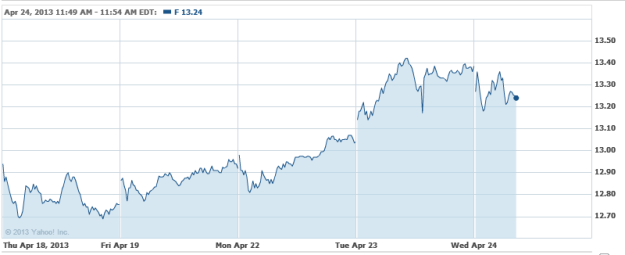 Sprint Nextel Corporation (NYSE:S): Current price $7.07
Sprint on Wednesday reported a smaller-than-anticipated quarterly loss, but its customer growth dropped as its Nextel network attenuates. While Sprint posted higher-than-expected revenue, it said the Nextel network shutdown was also deterring growth in its remaining network since large business customers were leaving. Sprint added 12,000 customers to its network, in comparison to the average estimate of nearly 198,000 from five analysts contacted by Reuters; their predictions ranged between 110,000 and 275,000 net additions.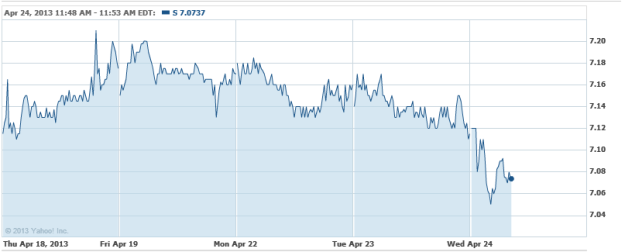 Don't Miss: Are Gun Stocks Ignoring Obama and Congress?