Cisco Canada Collaborates With McMaster University and 2 Other Hot Stocks to Watch
Cisco Systems (NASDAQ: CSCO): Current price $20.70
On Wednesday, Cisco Canada and McMaster Universitytoday said that they have formed a long-term relationship which will allow the university to ramp up research activities in Integrated Health Biosystems and Bioinformatics. The partners will also set up a university-wide research cloud computing environment and infrastructure. This arrangement will permit McMaster to build upon its research successes and reinforce its relationships with national and international partners from academia, government and industry.  Through the terms, Cisco is supplying a $2.1 million contribution to the University, which includes $1.6 million over eight years, to establish a Professorship in Integrated Health Biosystems, alongside $500,000 over five years to create a Research Chair in Bioinformatics.

General Electric Company (NYSE:GE): Current price $22.95
GE continues to broaden its tech portfolio to meet the challenges of offshore drilling and output, and the difficulties of deepwater drilling. A number of GE business divisions are promoting their most recent products and services for the offshore sector in Booth 3163 at the 2013 Offshore Technology Conference, which could draw almost 90,000 attendees.  At the conference, GE Oil & Gas launched the next-generation SeaONYX BOP surface control system and operator interface, which is designed to control a deepwater blowout preventer, used to quickly seal an oil well in emergency conditions.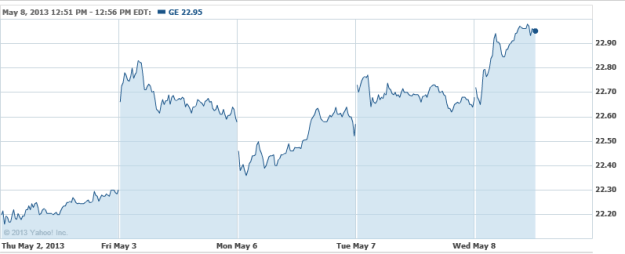 Delta Air Lines (NYSE:DAL): Current price $18.70
The carrier will return $1 billion to shareholders during the next three years, beginning with its first dividend in 10 years, and a $500 million share repurchase program, according to a Delta statement on Wednesday. These initiatives form part of a five-year plan that endeavor to generate up to $5 billion in value for investors.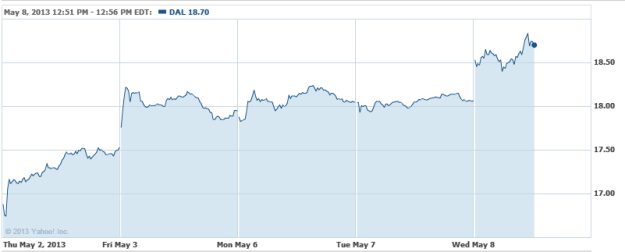 Don't Miss: Does This Sprint Suitor Have a New Gameplan?