Cisco CEO Describes Internet of Things and 2 Other Dow Movers to Watch
Cisco Systems (NASDAQ:CSCO): Current price $24.55
Cisco Chief Executive John Chambers predicts that a new technology market is coming that will produce a whopping $14 trillion in profits during the next decade, which he calls the Internet of Things. This is about putting all sorts of inanimate objects on the Internet such as cars, appliances, door locks, smart meters, video surveillance, health care devices, thermostats, et cetera. At AllThingsD's D11 Conference, Chambers said that,"The Internet of Things, I think will be the biggest leverage point for IT in the next 10 years, $14 trillion in profits from that one concept alone." He seems to be basing this on Cisco's research, as on Wednesday, the firm released its most recent report on Internet trends.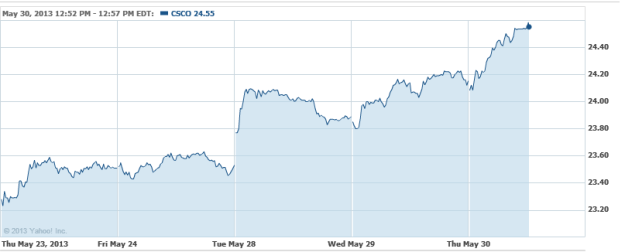 Alcoa (NYSE:AA): Current price $8.51
On Wednesday, Moody's Investors Service slashed Alcoa's main credit rating to junk status, pointing to weak prices and a difficult market for its primary metals business. Low prices that do not seem to move have impacted Alcoa, especially its downstream division of mining bauxite, refining it into alumina and smelting alumina to produce aluminum. In a statement, the company said, "We believe Moody's decision is a greater reflection of macroeconomic conditions and the volatility of metal prices than a true statement of the financial and operating strength of Alcoa." Moody's downgraded Alcoa's senior unsecured debt and corporate family ratings from Baa3 to Ba1, saying that Alcoa's rating outlook is stable and confirmed its Ba2 preferred stock rating.

Hewlett-Packard Company (NYSE:HPQ): Current price $25.10
HP is securing contracts at regular intervals, with the most recent being a deal with London's Deluxe Digital Cinema. The company will be work jointly with HP to enhance the speed, security and quality of its feature films, along with the trailer distribution process. Through this seven-year agreement, the HP Business Exchange Services content distribution systems will be employed by Deluxe Digital in conjunction with HP Enterprise Cloud Services, which will assist the distribution of feature films from an initial 3,000 cinemas throughout Europe in the next 18 months.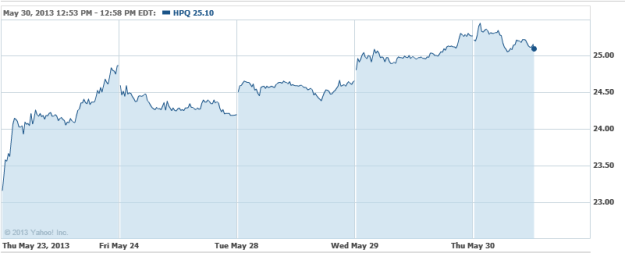 Don't Miss: Is Dish's Clearwire Bid a Sign of Concern?