Cisco Finalizes Its WHIPTAIL Acquisition and 2 More Heavily Traded Stocks to Follow
Cisco Systems Inc. (NASDAQ:CSCO): Current price $22.81
Cisco announced Tuesday that it has finalized its purchase of the privately held WHIPTAIL, which engages in high performance, scalable solid state memory systems that permit organizations to simplify physical and virtual data center environments, and process more data in less time. WHIPTAIL will reinforce Cisco's Unified Computing System strategy and improve application performance by joining scalable solid state memory into the UCS's fabric computing architecture.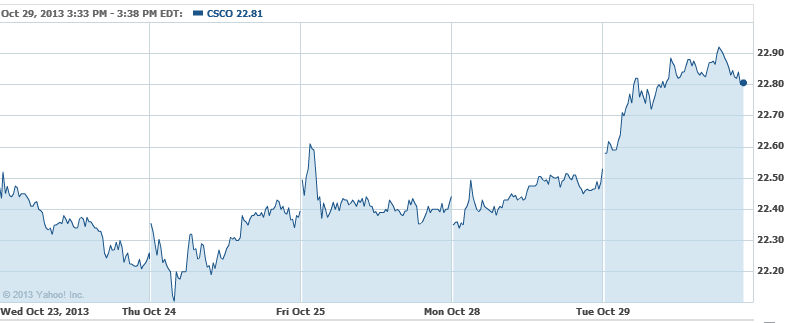 Facebook Inc. (NASDAQ:FB): Current price $49.38
The world's number one social network on Wednesday will release its third-quarter financials, bringing much attention to its mobile advertising figures since 41 percent of its ad revenue originated from mobile during the quarter with Facebook seeming to be serving mobile ads at a stunning pace. The firm is expected to surpass revenue forecasts on impressive growth in mobile advertising, said the analyst Michael Pachter at Wedbush Securities.

Bank of America Corp. (NYSE:BAC): Current price $14.13
On Tuesday, the Global Transaction Services division at Bank of America Merrill Lynch reported the intro of CASH360. The end-to-end cash automation product is being provided via a strategic relationship with G4S, an international security solutions organization. CASH360 intends to revolutionize the manner in which retail stores and other cash-intensive businesses operate by assisting them in cost reduction, lowering risk, and improving efficiency by freeing staff from back office duties.

Don't Miss: Verizon's Dividends Shine: So Why Are Investors Worried?