Cisco Launches Innovation Center In Israel and 2 Other Hot Stocks to Watch
Cisco Systems (NASDAQ: CSCO): Current price $24.82
On Monday, Cisco, working jointly the telecom service provider Pelephone Communications, announced that it has opened an innovation center in Israel in an effort to develop and deploy a radio network topology for dealing with the jump in demand for mobile Internet services. The two firms will use test a pioneer self-optimizing heterogeneous configuration that unites small-cell, Wi-Fi and macro technologies on Cisco's live production network. The Cisco self-optimizing network software, which automatically manages the solution, is a component of the recently reported Cisco Quantu software suite, which is an integrated suite of network management tools that provides service providers like Pelephone further capability to efficiently monetize and optimize their networks, as well as to give a superior experience.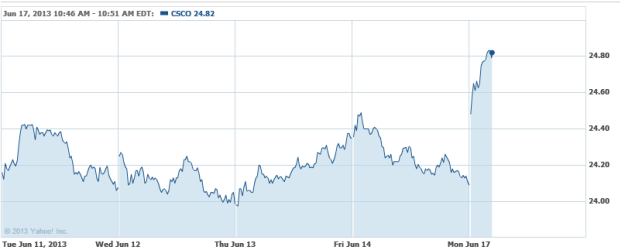 Citigroup (NYSE:C): Current price $50.21
Citi Research issued a research-highlights white paper Monday that summarizes a report prepared by Boundary Information Group that explores the strategies, technologies and best practices which  providers are implementing in reaction to the increase of consumer-directed and high deductible health plans. The amounts  that consumers will pay out of pocket for healthcare has been increased by accelerating regulatory and financial modifications, and that change could cause providers to be unprepared and financially vulnerable when more complicated consumer debt collection shifts to them.

Advanced Micro Devices (NYSE: AMD): Current price $4.05
AMD said on Monday that its SeaMicro SM15000 server provides the foundation for Rubicon Project's REVV, which represents the biggest, quickest and easiest-to-use independent real-time trading platform created for buying and selling digital ads. At the present time, the REVV platform reaches 97 percent of all domestic Internet users, as measured by comScore's reach measurement, and processes transactions between over 500 of the premium publishers globally and more than 140,000 advertisers throughout a massive marketplace. AMD and Rubicon Project have collaborated closely to create the RubiCube, which is a standardized, tightly integrated micro-POP-in-a-box solution, which will give Rubicon Project an operational competitive edge in all its key markets.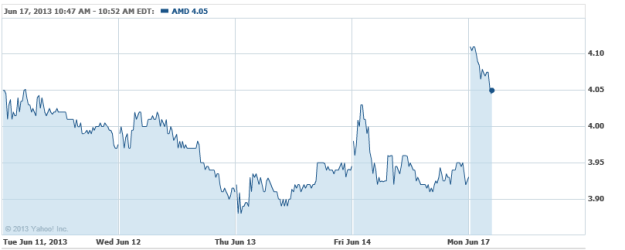 Don't Miss: What Are Critics Saying About Man of Steel?