Cisco Makes Investment in Its Israeli Operations and 2 Other Dow Movers to Watch
Cisco Systems (NASDAQ:CSCO): Current price $24.79
On Wednesday, Cisco announced that it will invest $15 million in Israeli venture capital funds to support its broader plan to expand its operations in Israel and outside the United States. The investment will be made in funds that back the integration of Israelis and Arabs, and also the development of innovative security technologies. Beyond that, Cisco, which in 2012 acquired the Israeli pay-TV smartcard maker NDS at $5 billion, reported it would set up a development center in Israel that will further research on cyber security, and also analyze security in the  health, financial, and industrial sectors. The firm is creating a network of consulting services provide answers to security requirements, and is recruiting 100 strategic workers in Israel, as it already has 2,000 employees there.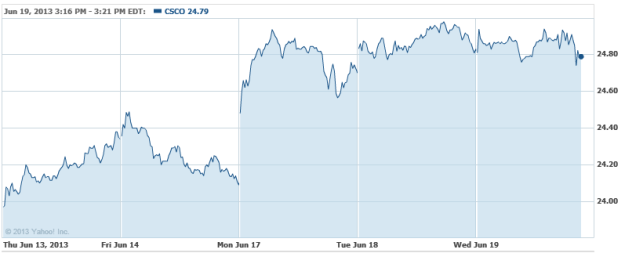 Hewlett-Packard Co. (NYSE:HPQ): Current price $25.59
Chief Executive Meg Whitman is reconfiguring her company's embattled personal-computer business, as she replaces the longtime chief Todd Bradley with one of his deputies during a worldwide PC slump. Hewlett-Packard said Tuesday that Bradley will be executive vice president for strategic growth, with the responsibility of expanding business in China and creating alliances with start-ups on a global basis. Dion Weisler was recruited in 2012 hired by Bradley from Lenovo Group to lead PCs and printing in Asia, and will have responsibility for those divisions.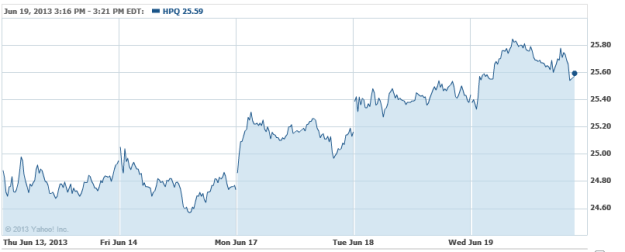 UnitedHealthcare Incorported (NYSE:UNH): Current price $65.64
UnitedHealthcare on Wednesday launched a new health benefits store in the center of Los Angeles' Koreatown, which moves forward the insurer's almost 20-year commitment of serving local residents with comprehensive and personalized customer service within their communities. Community leaders and company executives alike gathered for a ribbon-cutting ceremony to commemorate the opening of the Asian Resource in Los Angeles, which marks UnitedHealthcare's 23rd store in the United States and the fifth in California. This new store will aim to serve the Korean-American community, supplying Medicare beneficiaries with customer service support and information concerning their Medicare coverage choices.

Investing Insights: Is Sony a Buy at These Prices?