Cisco Prepares for Possible Sequestration and 3 Heavily Traded Shares Changing Hands Today
Micron Technology (NASDAQ:MU): Current price $7.92
On Friday, the company launched the industry's smallest 128-gigabit NAND flash memory device, employing its award-winning 20-nanometer process tech. The new device can store three bits of information per cell, called triple-level-cell, which creates a highly compact storage solution.

Cisco Systems (NASDAQ:CSCO): Current price $20.95
Chief Executive John Chambers says that sequestration would induce a "temporary pause" in market value, explaining to Fox Business Network that his firm, which has  more than 4,000 employees in Research Triangle Park, would be impacted and is preparing for possible sequestration.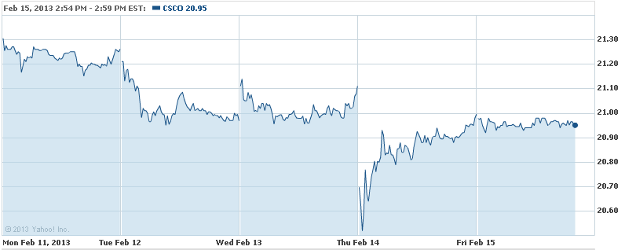 ARMOUR Residential REIT (NYSE:ARR): Current price $6.60
On Thursday, the real estate investment trust reported that it released an underwritten public offering of 65 million shares of common stock which will close on February 20th.

BlackBerry (NASDAQ:BBRY): Current price $14.13
The British mobile carrier Three has begun selling Blackberry's Blackberry Z10, says The Inquirer, which added that the firm did not sell the device when it originally appeared.

Investing Insights: Is Polycom a Bargain Here?