Cisco Reiterated At a Buy and 2 More Heavily Traded Stocks To Follow
Cisco Systems (NASDAQ:CSCO): Closing price $20.98
TheStreet Ratings have reiterated shares as a Buy with a ratings score of B. Cisco has improved earnings per share by 47.5 percent in first quarter compared year-over-year from 2012, and has exhibited a pattern of positive earnings per share growth during the past two years, and the analysts think that this trend should continue. During the past fiscal year, Cisco grown its bottom line by earning $1.49 compared to $1.16 in 2012. For 2013, the market anticipates an improvement in earnings of $1.99 versus $1.49.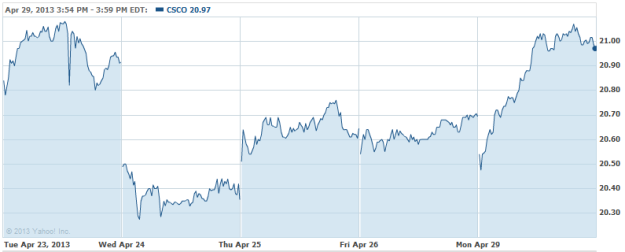 AT&T (NYSE:T): Closing price $37.30
The 2013 AT&T Small Business Technology Poll surveyed 1,000 small businesses nationwide, and it found that 66 percent of small businesses intend to invest as much or more in digital marketing, i.e., websites, social media and online advertisements,  as they did in 2012. The poll also indicated that a large majority of small businesses will expand their online and digital presence via their company website and emails to customers this year.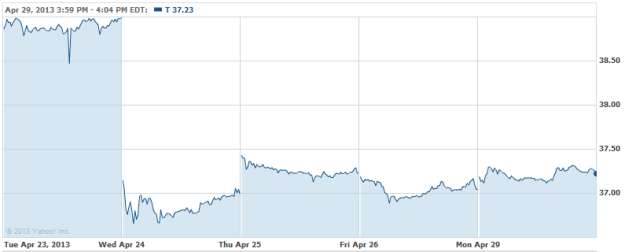 Sprint-Nextel Corporation (NYSE:S): Closing price $7.12
Analyst Shing Yin at Guggenheim Securities downgraded his rating on the shares from Buy to Neutral, writing that Sprint's offfer to buy out the portion of broadband partner Clearwire Corporation is likely to be blocked by a Clearwire shareholder vote, and also that Sprint shares may not receive a higher bid, even with the battle between SoftBank and DISH Network (NASDAQ:DISH) to acquire Sprint.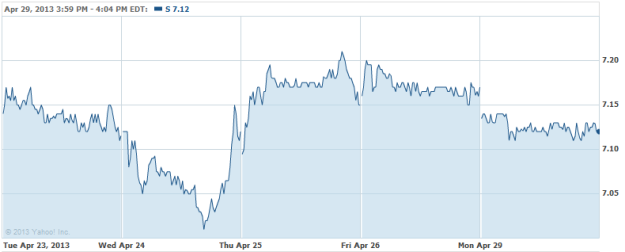 Investing Insights: Is Hewlett-Packard's Stock Price Heading Higher?